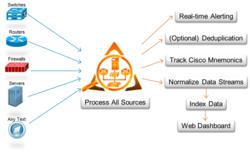 "LogZilla 4.5 brings the Big Data syslog solution that customers are searching for every day at a price point no other competitor can match, " explained Paul Rogers, CEO LogZilla, Inc.
Raleigh, NC (PRWEB) April 08, 2013
LogZilla, Inc. is pleased to announce the release of its latest update and maintenance release, version 4.5. LogZilla version 4.5 is focused on increasing data reception speed and storage efficiency. LogZilla 4.5 provides a "Big Data" syslog solution for IT networks at a price everyone can afford.
"LogZilla 4.5 brings the Big Data syslog solution that customers are searching for every day at a price point no other competitor can match. We have significantly improved the data reception speed and storage efficiency of LogZilla. As a result, LogZilla is ready for the largest IT networks at a price point that is frequently less than 5% of our competitors. A single LogZilla solution can handle over a billion syslog events per day. We believe users will be extremely excited about the value proposition of LogZilla version 4.5," explained Paul Rogers, CEO LogZilla, Inc.
Massive Performance Improvements
Redesigned and optimized the indexing process so that it now provides a sustained 15,000 events per second, while handling bursts up to 30,000. This version can also search over one billion records in 5 seconds.
Multi-core Indexing
The indexer can now use all available CPU cores leading to much faster indexing of incoming syslog messages.
New Maintenance Tools
This release includes a "swiss army knife" tool known as "LZTool". LZTool is used for several back end functions such as index rotation, but can also be very helpful for predicting how much hard disk storage, memory and mysql ram will be needed.
Speed up searches
Users may now specify the number of days' worth of records that LogZilla holds in memory via a menu option. This allows for 10x, even 100x, faster searching across events over multiple days. As an example, use the new LZTool (scripts/LZTool -v -r ss) to calculate available memory.
Import Removed
This version is capable of virtually unlimited retention (based on a user's systems resources) as data no longer has to be re-imported; instead, it is always present. All data older than the user specified retention level will be dropped from the database.
Upgrading
For our existing users, this release stresses the importance of upgrading often. This version brings about a whole new level of engineering performance. Existing users may simply contact LogZilla support to schedule a remote upgrade session.
Upgrade Specials Available in April
Version 4.5 Upgrade Specials effective from now until April 30th (Applies to purchases made directly through LogZilla Only):
1. All Free/small Network Licensees can add any feature and/or host or message pack for 30% off.
2. All current paid licensees can upgrade their current license for 30% off. For example: customers who own an Enterprise I license and wish to upgrade to an Enterprise II license, the difference in price of $1876.00 will be only $1313.20 in April.
3. All New Licenses, whether to new or existing customers, will get the license upgraded one tier free of charge for the first year. For example: Any existing customer may purchase an additional Enterprise I license and receive an Enterprise II license at no additional charge for the first year.
How to Upgrade
Users using subversion may upgrade immediately using the "Full upgrade" method.
"Kickstart" for New Ubuntu Servers
When installing LogZilla 4.5 on a new Ubuntu 12.04.1 LTS server, a "kickstart" script will install a fresh Ubuntu 12.04.1 OS and set up everything needed for LogZilla including all repo packages, perl modules, Apache, PHP, syslog-ng, etc.
Automated Testing
Also included in this release is automatic testing, including performance tests.
Sample deduplication test:
# /var/www/logzilla/t/log_processor/perf/02-deduplication.t
1..1
# Creating test database
# Created mysqld, pid=24204, dsn=DBI:mysql:dbname=test;mysql_socket=/tmp/XfoGXOYQOw/tmp/mysql.sock;user=root
# Populating test db with tables
# Running command mysql -u root --password='' -S /tmp/XfoGXOYQOw/tmp/mysql.sock test </var/www/logzilla/t/log_processor/perf/../../../scripts/sql/test-db.sql
# Inserting 100000 records with deduplication enabled...
# Total time taken: 8.915 s
# Average performance: 11216.70 rec/s
ok 1 - Can insert more than 2000 rec/s with dedup enabled
This version offers equal performance for both deduplication and non-dedup methods, so it is highly recommend that users deduplicate events as that may provide a massive savings of hard disk storage, memory and CPU resources.
With our latest features and advancements, LogZilla provides the most advanced syslog software solution but remains a fraction of the cost of our competitors. At LogZilla, businesses can select the syslog solution that they need rather than buying expensive bundled packages. LogZilla provides a syslog software solution and an integrated software and hardware syslog solution that includes full support. Our new version is a direct result of listening and responding to our customers needs. LogZilla is the choice of thousands of IT professionals interested in improving network uptime, meeting compliance standards, increasing network security and reducing internal costs.
For more information on LogZilla, visit http://www.logzilla.pro or contact Paul Rogers, CEO, LogZilla, LLC, at (252) 564-9452 (LOG-ZILA).
Media Contact: Alyssa Rogers, 862-596-3719, arogers(at)logzilla(dot)pro