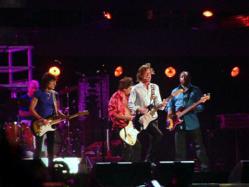 New York, NY (PRWEB) April 07, 2013
The Rolling Stones really are rolling. Even as they are preparing to roll out their "50 and Counting" tour, new shows are being added to the schedule. During the past week, additional shows in Chicago and Toronto were announced, as well as a gig in Hyde Park.
The band may be showing its age, but it has been trying to keep up with demand as well. When first announced, there were nine shows in North America on the calendar. Since then, they have four more shows, two in Chicago's United Center (May 31 and June 3) and a second Toronto date at the Air Canada Centre (June 6). There are also plans for a second Hyde Park show.
The open-air Hyde Park concert in London, will be on on July 6, which coincides with their historic 1969 concert at the same venue. The 1969 show had more than 250,000 fans in attendance. Their summer show will have 65,000 "seats". The show was announced on Wednesday, April 3, the tickets went on sale on April 5, and was sold out in less than 5 minutes. There were a lot of complaints on the internet about the price of the standing-only tickets. A second Hyde Park show is being planned due to the high ticket demand. This will most probably be two or three days after the first one. During their 2012 show as part of the "50 and Counting" tour, The Rolling Stones had two shows at London's O2 Arena.
The week before Hyde Park, The Rolling Stones will be headlining the Glastonbury Festival. This will be their first at the famed music festival. The "50 and Counting" shows were scheduled to allow the members rest and recuperation. The band members admit that they are not as young as they once were, and they would be careful with what they do on stage, for the obvious health reasons. They also admitted that the schedule would permit adding more shows or repeats at the the same venues. The Stones have no plans to do a large scale tour or any shows outside of North America and Europe.
The tickets to the first few dates of the North American leg of the Rolling Stones' 50 and Counting tour are now available. Fans can already purchase tickets for the San Jose, Oakland, Chicago and Toronto shows starting 10:00 am local time. Sale of tickets to other venues will be announced at a later time.
About Cheap Concert Tickets:
CheapConcertTickets.me delivers tickets to sold out concerts and events worldwide when no one else can, and they do so at discounted prices. As a member of TicketNetworkDirect, they can guarantee the delivery of Maroon 5 and Kelly Clarkson tickets along with tickets for Depeche Mode and The Rolling Stones tickets. This trusted ticket exchange also has a large inventory of tickets for all sporting events around the World. With CheapConcertTickets.me customer service is a priority, for more information email support(at)cheapconcerttickets(dot)me.