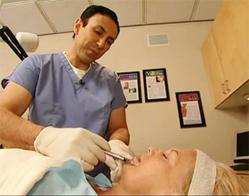 Los Angeles, California (PRWEB) April 07, 2013
According to an April 2, 2013 Yahoo! Finance article, there is increasing interest in studying the effectiveness of a topical Botox cream as a remedy for a variety of therapeutic and aesthetic conditions. Revance Therapeutics, Inc. has raised the funds required to support research of Botox creams with the potential to lead to new products that address wrinkles and hyperhidrosis. (Go to: goo.gl/6p8Xx).
"I've been interested in potential topical applications of Botox for more than ten years," says Dr. Simon Ourian, Medical Director of Epione Beverly Hills. "To date, no one has developed a topical delivery system that's as effective as traditional Botox injections. Perhaps these trials will tell us if we're on the cusp of a major product revolution."
The report says that existing investors and new shareholders have provided financing to further develop the potential products labeled RT001 and RT002 through expanded clinical trials that may shed light on the effectiveness of Botox cream and gel applications. Phase 2 trials for RT001 are focused on topical remedies for treating chronic migraine headaches and excessive sweating. Phase 3 trials for Type A RT001 Botulinum toxin will investigate product effectiveness in terms of reducing wrinkles around the eyes.
"Botox has FDA approval for multiple indications including hyperhidrosis, chronic migraine headaches, and moderate to severe frown lines," says Dr. Ourian. "It will be interesting to see if this round of clinical trials yields evidence sufficient to indicate that these conditions are treatable topically."
Dr. Ourian has been a pioneer in laser technology and non-invasive aesthetic procedures including Restylane, Juvéderm, Radiesse and Sculptra. These treatments are used for the correction or reversal of a variety of conditions such as acne, acne scars, skin discoloration, wrinkles, stretch marks, varicose veins, cellulite, and others. More information about Botox creams can be found on Epione's website.