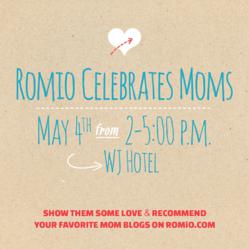 'Every mom has her own amazing story... We want this event to be a celebration of those stories,' said Tarik Sansal, CEO of Romio
New York, NY (PRWEB) April 09, 2013
Romio, an innovative online local recommendations site that connects people with the best around them, and boutique hotel, Washington Jefferson Hotel are putting together a May 4, 2013 event to celebrate moms with an afternoon discussion featuring Washington Jefferson Hotel's own General Manager Debbie Silverstein and Primp-In-Home founder Anna Koffler.
The event will take place at Washington Jefferson Hotel on West 51st Street in the heart of the Theatre District, where Silverstein and Koffler will discuss how they manage to find the balance between family life and their professional aspirations.  
25 of New York City's mom bloggers are invited to attend the event and share their own stories. All attendees will have the opportunity to experience the Washington Jefferson Hotel and some of Primp-In-Home's amazing spa services including a manicure and mini-facial amongst others.
"Every mom has her own amazing story. In some ways, they are the world's most important stories," Romio CEO Tarik Sansal said. "We want this event to be a celebration of those stories."
"One of our goals here at the Washington Jefferson hotel is to establish relationships with the community and neighborhood.  We're extremely excited to host this event with Romio and welcome NYC moms to the WJ Hotel," said Greg Ludwiniak, Director of Sales & Marketing at Washington Jefferson Hotel.
For more information, please visit: http://pitch.pe/17lLlmi.
To attend the event, please RSVP at romiocelebratesmoms.eventbrite.com.
About Romio:
Romio is an innovative online resource that allows you to share, search, and discover neighborhood recommendations from local experts and friends. Romio strives to make your life easier by connecting you with the best your city has to offer.
Media Contacts:
Romio: Rechelle Balanzat, (646) 535-7084, rechelle(at)romio(dot)com