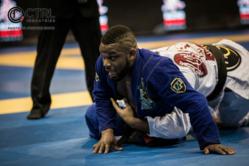 Los Angeles, CA (PRWEB) April 10, 2013
DJ Jackson has been on a tear in his first year at Black Belt. Earning his Black belt in July 2012 in record time, DJ has beaten a who's who of Jiu Jitsu legends, including Formiga, Cyborg Abreu, Gregor Gracie, Lucas Lepri, Abmar Barbosa and Clark Gracie (No Gi).
At this past Pans, DJ added more notable names to his hit list, including Gabriel Vella in the Black belt open class, however he would fall short to Bernardo Faria (Alliance) in the quarterfinals.
In the Middle weight class, DJ won two tough matches, including a come-from-behind submission of Formiga. In the semi-finals, DJ would face Clark Gracie, whom DJ defeated at the 2012 No Gi Worlds. However, this time would see Clark the victor. The Gracie standout would edge out on points after an omaplata attempt late in the match.
DJ is sure to continue to rack up the wins and experience as a Black Belt World class competitor. He has a busy schedule ahead: WPJJC in Abu Dhabi April 11-13, Copo Podio (an invite-only tournament) in May and of course, the IBJJF World Championships May 29-June 3rd.