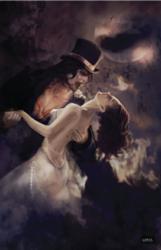 The blood lust is coming.
Toronto, Ontario (PRWEB) April 08, 2013
Double Dragon Publishing will release Alamptria 1: Bloodstone Crypt in May 2013. Richard A. Valicek's fantasy horror epic packs the magical world of Elysium full of suspense, action, adventure, and vivid, unique characters as yet never seen in literature.
The original version, Alamptria: Red Moon Rising, won the 2011 Buzzillions Reviewers Choice Award and gained an ardent readership. Reviewers have compared the novel to work by J.K. Rowling and J.R.R. Tolkien. On Amazon.com, Prosaic from Dallas writes:
This vibrant and exotic tale is just what the doctor ordered for those in need of a literary fantasy-world treatment. The author doesn't skimp on character development or action details; so, wimps beware. You will mentally duck, sway, jump and soar your way through this 18th century epic tale of good versus evil. It's a story you can really get into with both feet. Be sure to guard your neck with a spiked collar.
Outside the kingdom of Elysium, vampires gather strength from their Lord Makoor and begin to encroach. The royal Seaton brothers, knights with magical claymores, along with elves, humans, and other creatures, must race to battle these demons in order to prevent human extinction before it's too late.
Richard A. Valicek holds a certificate from George Brown College in Liberal Studies and a diploma in Graphic Design. He lives in Toronto.
Alamptria 1: Bloodstone Crypt will be released in May 2013 Double Dragon Publishing. The book will be available at thousands of retailers nationwide in stores as a trade paperback and online for the Ibook, Nook, Kindle, and Epub.
For further information about Alamptria 1: Bloodstone Crypt, visit http://www.alamptria.com or contact the author at 416-570-5655.
###