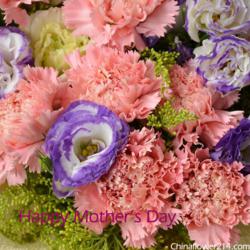 Everything was extremely perfect! Chinaflower214 did an amazing job, really good service and 99 awesome ultra fresh white roses!
Guangzhou, China (PRWEB) April 18, 2013
As Mother's Day approaches, Chinaflower214.com offers sons and daughters around the world a chance to show their mothers at home in China they are thinking of them, with flower and gift delivery to Beijing, Shanghai, Nanning, Wuhan and many other cities.
As a way of honouring mothers, it comes as no surprise that Mother's Day has rapidly grown in popularity in China. Celebrated on the second Sunday in May, millions of Chinese mums can expect visits from their children. Sons and daughters that cannot be with their mothers in person can still celebrate the special day with the help of chinaflower214.com and Mother's Day Flowers.
The comprehensive flower delivery service from Chinaflowers214.com will help people from across the world celebrate Mother's Day in China on the 2nd of May . A company spokesman said: "flowers hold a special place in Chinese culture, so it makes sense that a beautiful bouquet is the most popular way to show your mom how much you love her. Every mom deserves to feel special on Mother's Day, so we're thrilled to be able to offer our customers the chance to save money on their flowers by ordering early." Customers that often leave things to the last minute don't need to worry however, as a same day delivery service is available.
It has become common for the younger generation to send their moms carnations as these flowers are symbolic of the sweetness, purity and endurance of motherly love. However, the extensive range of Mother's Day bouquets available from http://www.chinaflower214.com/china_Festival/mother_flower/ ensures that whatever customers want their flowers to say, there are the perfect colours and styles available. The finest teddy bears, chocolates, and fruit baskets are also available to order, making great alternatives or additions to the traditional flower bouquet.
Chinaflowers214.com is the leading flower delivery service based in China, providing flowers and gifts for every occasion. The secrets of the company's success is simple: a combination of local knowledge with world-class service.