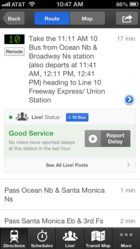 "Our reliable and highly accurate door-to-door transit directions revolutionized the transit industry a few years ago, and now HopStop Live! will do the same by becoming a must-have tool for any commuter." -Joe Meyer, HopStop CEO & President
New York, New York (PRWEB) April 08, 2013
HopStop, the number one ranked transit app in iTunes and Google Play with over three million downloads, today launched HopStop Live! TM – the only free, real-time social transit app backed by the power of millions of highly-engaged mobile users across seven countries, 700 transit agencies, 20,000 lines and 750,000 stops. HopStop Live! is the first social navigation platform that allows public transportation riders to contribute, receive and share real-time transit information about the stations, lines and transit systems that matter most to them. The new service will launch exclusively on the iPhone platform with other platforms, including iPad and Google Play, to follow in subsequent releases. The real-time transit service includes every market, across every transit agency, for every line/route that HopStop currently supports.
HopStop Live! is the only all-in-one transit app, providing unparalleled door-to-door walking and transit directions, schedules and officially licensed transit maps and, for the first time, real-time crowd-sourced information from fellow transit riders. The service benefits from an immediate install-base of 2 million monthly active users, not available anywhere else at this scale. The service also fills a large void left by the lack of real-time information currently available from most transit agencies – especially in periods of disruption caused by unforeseen incidents. Real-time, crowd-sourced information will be available both within HopStop's familiar step-by-step direction search experience and also through a new standalone service with the iPhone app called "Live!". Through the standalone service "Live!", users can follow their specific lines and stations of regular use.
"The real-time public transportation space has attracted so much attention over the past twelve months with a countless number of new transit apps all professing to have the answer to real-time," says Joe Meyer, CEO, HopStop. "The problem with the vast majority of these is that as impressive and headline-grabbing as their goals or claims may be –they all lack the critical ingredient for any crowd-sourced service to be useful –a big enough crowd of endemic users. Over the past nine years, HopStop has grown to be the biggest independent player in the transit routing market, and today's launch of HopStop Live! will leverage our large user base and strong commitment to product excellence to define the future of real-time public transportation information."
HopStop Live! also aims to help transit riders create micro-communities around their particular train line, bus route, stations or stops; and share real-time information and tips to make everyone's trip better, easier and safer. HopStop Live! analyzes real-time user reports on lines, stations and routes across its entire global footprint to give transit riders a real-time snapshot of whether their ride is delayed, by how long, and an indication of the likely reason.
Joe Meyer, CEO, HopStop added, "Our reliable and highly accurate door-to-door transit directions revolutionized the transit industry a few years ago, and now HopStop Live! will do the same by becoming a must-have tool for any commuter. The new service will also help riders create micro-social communities around the specific stations, lines and stops that they care most about, thereby making everyone's trip better, easier and safer."