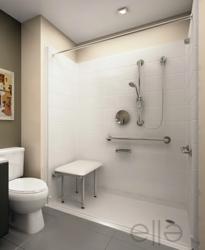 These extra large handicap shower stalls provide bathers with ample room for bathing at an affordable price.
New York, NY (PRWEB) April 08, 2013
Entering a bathtub can especially be a challenge for the elderly and people with significant mobility restrictions. Aging Safely, a national provider of walk in bathtubs and roll in shower systems announces they will be expanding their handicap shower stall line to include appliances that are extra large.
These specialty handicap shower systems come standard with durable, padded built in seats. Bathers can typically enter the roll in showers more easily, due to the fact that there is virtually nothing to maneuver over to enter the shower. The wheelchair accessible showers also come with safety grab bars that bathers can grab onto for extra support and stability while entering to bathe.
Caregivers can also potentially benefit from these larger handicap shower stalls. The 36" x 60" model now offered by the company offers ample room for a caregiver to assist a patient in bathing if required. Dependant upon the severity of the mobility restriction, bathers that are paralyzed or have limited use of extremities may not be able to safely enter into walk in bathtubs with or without assistance.
In some instances, a disability hoist system can be used to help a disabled bather enter a transfer bath to soak, however a somewhat significant amount of room is required; therefore it's not always feasible to have a transfer bathtub in a residential bathroom. Several of the handicap shower stalls offered by Aging Safely are compact as well and can easily fit into a standard 30" x 60" opening. For retrofit applications, it is important to ensure the bathroom entry door is wide enough for a wheelchair to enter. In most cases, if it is required to widen the doorway; the costs are typically minimal. Some of the walk in bathtubs or transfer bath appliances may also require a 30" wide door opening.
Senior bathtubs aren't only designed for senior citizens. Bathers of all ages can potentially benefit from the unique safety features such as, low step entries, built in seats and temperature control devices. Walk in bathtubs and handicap shower stalls can also be used to bathe children and adults of all ages who may have a disability or mobility restriction.
These specialty roll in showers can also come with a thermal mixing valve which can help regulate the temperature of water entering the handicap shower, transfer bath or walk in tub. These temperature control devices are a great option for bathers who suffer from any type of mental disability that may inhibit fine motor skills and cognitive thinking abilities. This extraordinary safety feature can have a desired temperature preset, in which the valve will automatically mix the appropriate amount of hot and cold water to achieve optimal temperature. This type of device can also potentially be beneficial for people with diabetes who may have a loss of feeling or ability to accurately sense temperatures.
Aging Safely provides walk in bathtubs to all 50 states and Canada. They are open to the general public but also provides walk in tubs, handicap shower stalls and safety grab bars to contractors, builders and wholesaler distributors. Additionally the also supply bathing products to aging in place organizations such as, assisted living facilities and nursing homes. The company offers no obligation consultations and invites shoppers to contact a representative with any questions or needs.
Contact Information:
Zach Wennstedt
info(at)Agingsafelybaths(dot)com
1-888-779-BATH(2284)