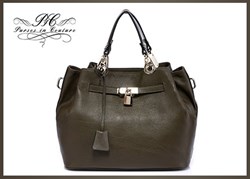 Its about time all those hours spent playing online games can finally payoff with a site like Mr.Deals 4U.
Boca Raton, Fl (PRWEB) April 08, 2013
Today, Mr. Deals 4U launches their 2nd of 30 tournaments with Mahjong Mix, and online flash game. The sponsor of today's tournaments, Purses in Couture, is offering the winner a "Kane" genuine leather tote, valued at $300.
Mr. Deals started their promotional tournaments on April 7th to introduce users to their new platform of Daily Deals and online gaming. Users can register and play for free for a chance to win one of their 30 prizes being offered this month. Each tournament will run for 7 days, giving players the opportunity to achieve the highest score within that time.
"We are thrilled about our launch of the 30 Day Play Tournaments" stated Phil Tomich, founder and owner of Mr. Deals 4U. "Interest in our site is evident from our increase in subscribers since our tournaments began only 48 hours ago."
New subscribers can register at https://www.mrdeals4u.com/users/signin and enter to play online games and receive Daily Deals from merchants around the world.
About Mr. Deals 4 U:
Mr. Deals is an exciting new way to find great deals, play online video games and earn DEAL DOLLARS to buy daily deals and enter tournaments.
Our mission is to give merchants an opportunity to create brand awareness of their business and products. Mr. Deals offers a fun atmosphere by allowing customers to play games and earn Deal Dollars to use on Mr.Deals4U.com.
Mr. Deals allows merchants a place to offer great deals to online gamers. Every day there are 6 deals offered by a variety of merchants with an assortment of deals. Join our Online Video Game Room to earn Deal Dollars that will let you enter into tournaments to win prizes.