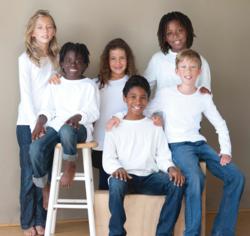 Many people are not aware that LGBT people have, indeed, been parenting for generations.
Los Angeles, CA (PRWEB) April 08, 2013
Today, RaiseAChild.US announced its first annual honors and fundraising gala to be held at the W Hollywood Hotel on May 19. The nonprofit organization encourages the lesbian, gay, bisexual and transgender (LGBT) community to build families through fostering and adoption.
With the theme of "honoring the history of LGBT families," the gala will pay tribute to four LGBT families formed over the past twenty years. It will also honor Susan Edelstein, founder and retiring director of TIES for Families at UCLA and Peter Paige and Bradley Bredeweg, creators of the new television series "The Fosters" which will premiere on ABC Family this summer.
"Many people are not aware that LGBT people have, indeed, been parenting for generations. Our options have opened up significantly in the past twenty years, and range from donor insemination and surrogacy to private adoption and now fostering," says Rich Valenza, founder and president of RaiseAChild.US. "We are honoring our LGBT parent pioneers—who pursued family formation ahead of the curve, laying the groundwork for countless others who now follow in their footsteps."
Despite a patchwork of laws affecting LGBT parenting across the country, social services and foster agencies are actively seeking LGBT parents to provide safe and loving homes for children. RaiseAChild.US produces media campaigns that feature LGBT foster and adoptive parents and their families and include radio and television PSAs, as well as outdoor, print and social media advertisement. Each campaign culminates in recruitment events that connect the prospects to local foster agencies. The organization then supports and tracks its recruits as they train, certify and match with waiting children.
Campaigns are focused on National Adoption Awareness Month (November), National Foster Awareness Month (May), Mothers Day and Fathers Day.
According to the U.S. Department of Health & Human Services' Administration for Children & Families, there are over 400,000 children in the foster care system. One quarter of these children are available for adoption. Certified families are in short supply and many children will "age out" of the system before finding permanent families.
The Williams Institute at UCLA estimates that over two million LGB people have considered raising a child. According to RaiseAChild.US cofounder and media director John Ireland, "these numbers show that a solution to the foster care crisis is within reach… right here within the LGBT community. We are going to solve it."
The first program of its kind in the nation, RaiseAChild.US has recruited over 800 LGBT prospective parents in its initial 18 months with campaigns in New York and California (the San Francisco Bay Area, Los Angeles and Orange Counties). It is now expanding into the Northwest, Midwest, South and along the Eastern seaboard and expects to significantly increase its database of LGBT prospective parents.
The organization works closely with the Human Rights Campaign Foundation's "All Children – All Families" (ACAF) initiative, which provides professional training and technical assistance to foster care and adoption agencies that want to welcome and support LGBT foster and adoptive parents. To date, ACAF includes nearly 70 participating agencies across the country and has awarded 30 seals of recognition.
"As the familiar playground song goes, 'First comes love, then comes marriage…' reminds Valenza. "We all know what comes next. Our community is arriving in droves at the conclusion that all children deserve family… and we are meeting that challenge."
Join the RaiseAChild.US community on Twitter @RaiseAChild and visit RaiseAChild.US on Facebook at https://www.facebook.com/raiseachild.