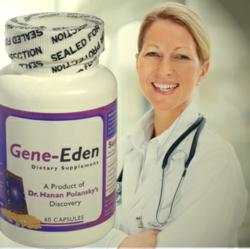 After symptoms of a herpes infection have cleared, doctors and patients should still be concerned. - polyDNA
Rochester, NY (PRWEB) April 08, 2013
Doctor's typically prescribe drugs such as acyclovir (Zovirax), famciclovir (Famvir), and valacyclovir (Valtrex) for patients suffering from active herpes infections. These drugs treat herpes symptoms and reduce the time cold sores, fever blisters, and genital herpes sores last. polyDNA would like to point out that after symptoms of a herpes infection have cleared, doctors and patients should still be concerned.
Why?
Typically, doctors and their patients believe that when an outbreak has passed, the danger of the viral STD infection is over until the virus becomes active again and another outbreak occurs. Many doctors believe that latent viruses are not dangerous because the virus is not active. "A latent infection is a phase in certain viruses' life cycles in which after initial infection, virus production ceases."[1]
However, new research shows this belief should be reconsidered.
Many doctors are most likely unaware that Dr. Hanan Polansky's discovery, as published in his Purple Book entitled "Microcompetition with Foreign DNA and the Origin of Chronic Disease" [2], shows that latent viral infections are the cause of most major disease responsible for millions of people dying each year. Research shows that latent herpes viruses replicate and shed even during latency. This low scale replication affects human genes.
In a new paper, it was noted that "Both the chronic and latent states of infection contribute to HCMV (Human Cytomegalovirus) persistence and to the high HCMV seroprevalence worldwide. The chronic infection is poorly defined molecularly, but clinically manifests as low-level virus shedding over extended periods of time and often in the absence of symptoms." [3]
In addition, "Transcripts and proteins encoded from a region encompassing the major immediate early region are detected in hematopoietic cells following infection in vitro as well as in latently infected individuals." (Kondo et al., 1996; Landini et al., 2000).
These papers show that latent herpes viruses are still replicating even when they are not "active" according to standard doctor's perceptions. They are still making copies of themselves and replicating even though they are latent.
Why isn't latency just a scientific curiosity? Why is latency so significant from a medical perspective, and why should every doctor familiarize himself/herself with the issue of viral latency?
The answer is that many patients suffer from latent viral infections.
A prestigious study estimates that nearly 60 percent of U.S. men and women between the ages of 14 and 49 carry HSV-1. [4] In addition, "according to a 2010 national health survey, about 16.2 percent of Americans between 14 and 49 are infected with HSV-2 – a lifelong and incurable infection that can cause recurrent and painful genital sores and can make those infected with the virus two-to-three times more likely to acquire HIV." [5]
polyDNA suggests that doctors familiarize themselves with Dr. Hanan Polansky's discovery and read more on Gene-Eden-VIR, a natural remedy designed specifically to boost the immune system against latent viruses. This natural remedy recently underwent a post marketing clinical study. Doctors and their patients can learn more here: http://www.cbcd.net/Gene-Eden-VIR-Clinical-Study.php
To learn more about Gene-Eden-VIR, visit http://www.gene-eden-kill-virus.com.
Reference:
1: N.J. Dimmock et al. "Introduction to Modern Virology, 6th edition." Blackwell Publishing, 2007.
2: Foreign DNA Fragments Cause Most Major Diseases
3: Human cytomegalovirus persistence
4: Trends in Herpes Simplex Virus Type 1 and Type 2 Seroprevalence in the United States
5: Scientists Reveal Novel Strategy for Stopping Herpes
###
polyDNA is a biotechnology company that develops dietary supplements using the unique scientific method developed by Dr. Hanan Polansky, which is based on Computer Intuition.
In addition to his unique scientific method, Dr. Polansky published the highly acclaimed scientific discovery, called Microcompetition with Foreign DNA. The discovery explains how foreign DNA fragments, and specifically, DNA of latent viruses, cause most major diseases.
polyDNA developed Gene-Eden-VIR , an antiviral natural remedy that helps the immune system kill latent viruses.