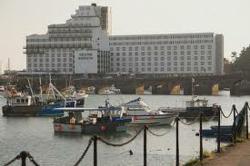 Bearing in mind this situation was avoidable; the possible ramifications for the individuals involved are catastrophic.
Bolton UK (PRWEB UK) 11 April 2013
Britannia Hotels describe The Grand Burstin Hotel, in Folkestone, as 'Superbly located by the seaside' considering it to be 'Renowned as one of the UK's top entertainment hotels.'(1) However, according to the HSE, guests staying between February and July 2010 may have checked out with the potential to develop asbestos related diseases.
On the 3rd April 2013, Canterbury Crown Courts heard the trial, case number T20130104. Britannia hotels pleaded guilty to two breaches of the Health and Safety at Work Act 1974 (2); resulting in them being ordered to pay fines and costs of over £200,000. Both breaches resulted in construction workers and guests being put at risk, exposing them to potentially deadly asbestos fibres on the premises of the hotel.
The Britannia Hotel failed to ensure the completion of a full asbestos assessment before the renovations began; putting not just the construction workers on the site at risk, but also the guests staying in the hotel at the time. (2) In the midst of construction a licensed asbestos contractor had to be summoned after an abundance of asbestos was discovered in the eaves of the hotel building.
Being exposed to asbestos has serious health implications (3). When breathed in, asbestos dust can scar lung tissue, causing asbestosis. Alternatively, breathing in asbestos can cause pleural thickening, which is when the membrane covering the lungs (pleura) is damaged by asbestos. Those suffering with asbestos related diseases have a higher risk of developing other serious conditions, such as Lung Cancer or Mesothelioma.
In most cases, the symptoms of asbestosis or pleural thickening develop years after the original exposure. This long latency period means it is not yet known whether any of the construction workers or hotel guests have been affected (2).
Following the hearing, HSE inspector Melvyn Stancliffe, made the following statement (2)-
"Britannia hotels carried out refurbishment work without arranging a proper asbestos survey before work got underway. The company's failure to deal with the asbestos could have resulted in up to 22 workers being exposed to asbestos from the outset of the project until the end of July 2010.
Although the guests did not have direct access to the floors where asbestos was found, it is possible that the fibres may have spread into areas that were still open to them. The simple fact is that because of the company's failures, both guests and workers have been put at risk, and they now face an uncertain future."
Any hotel guest or construction worker who develops symptoms could make a claim for compensation; be it a pleural thickening claim or an asbestosis claim. Asons Solicitors have a wealth of knowledge and expertise relating to asbestos claims; priding themselves on the provision of first-class legal advice and support. Asons are happy to provide counsel to those who consider themselves to have been affected by exposure to asbestos.
Speaking on the case, Asons Executive Thomas Fairclough, commented:
"Bearing in mind this situation was avoidable; the possible ramifications for the individuals involved are catastrophic. Had Britannia Hotels followed procedures, completing a full assessment, no-one would have been at risk. I truly hope this case acts as a deterrent, ensuring that in future, asbestos is properly managed and dealt with. "
If you, or someone you know, have grounds for an asbestos claim, contact Asons solicitors today to find out what kind of help is available. Contact Asons on: 0844 850 1062 or fill out a claim form at http://www.asons.co.uk
Sources:
(1) britanniahotels.com/hotels/folkestone/
(2) hse.gov.uk/press/2013/rnn-se-britannia.htm
(3) nhs.uk/conditions/Asbestosis/Pages/Introduction.aspx

About Asons Solicitors:
Asons Solicitors is a Bolton-based law practice that specialises in personal injury and industrial disease claims. Founded by brothers Imran Akram and Kamran Akram, Asons Solicitors has developed to become a young and dynamic law firm that delivers practical solutions to clients in times of difficulty. Their continued focus on their staff has seen them awarded with the Investors in People "Gold Award"; which is reflected in the professional and personable approach they take in working with clients. They strive to grow and to develop, and their supportiveness and attention to detail ensures that their clients use them time and again.
For further information contact:
Email: info@asons.co.uk
Website: http://www.asons.co.uk