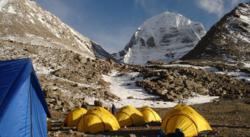 With several choices to choose from, these Mount Kailash tours can be easily designed to meet individual interest and travel style. -- Helen Wang
(PRWEB) April 11, 2013
Holy Mount Kailash will uncover her mysterious veil to the travelers all over the world again in April! WindhorseTour, a local travel agency with offices in Lhasa has updated 6 Tibet Mount Kailash tours on their website. For over 10 years WindhorseTour has specialized in providing tours throughout Tibet for foreign travelers.
Located in the Ngari Region of Western Tibet, Mount Kailash is famous as sacred mountain for Hindu, Buddhist, and Bonist pilgrims. Additionally, its spiritual aura and heavenly scenery also entice travelers from all over the world.
Compared with Namtso Lake and other highlight scenic spots in Tibet, Mount Kailash is the least visited destination for those who are seeking a spiritual trip in Tibet. "Arranging a Mount Kailash tour is the most pleasure thing we could do. With several choices to choose from, these Mount Kailash tours can be easily designed to meet individual interest and travel style." Helen Wang, the sales manager at WindhorseTour said.
WindhorseTour suggest their clients spend at least 15 days enjoying their vacations to the Holy Mount Kailash. One of the most popular route is 15 days Mount Kailash and Lake Manasavora tour, travelers drive across the great Jangtang Plain into the dry lands far western Tibet. During the journey they will see two of the three holy lakes in Tibet, Lake Yamdork tso and Manasarova.
The highlight comes at the 9th day as they will have a 3 days Kora around Mount Kailash to see the pilgrims from four different religions, and explore their unique religious culture. WindhorseTour provide all the necessary equipment and a detail requirement for their clients. The tour is designed to minimize the risk of high altitude sickness.
WindhorseTour specializes in creating tailor made experiences based on every client's unique needs and operating groups to all provinces in China. Please visit WindhorseTour.com for more information or contact them.
Email address: news(at)windhorsetour(dot)com
TEL: (+86)-28-85593923, (+86)-28-86254701
Fax: (+86)-28-86254710