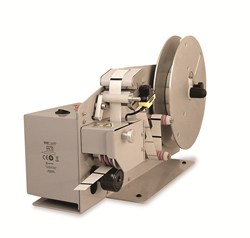 The EconoDot by Glue Dots International provides a single sourced solution that will improve project speed and lower cost.
New Berlin, Wisconsin (PRWEB) April 09, 2013
Glue Dots International (GDI), a leading global manufacturer of pressure sensitive adhesive patterns, launches a new adhesive applicator – the EconoDot – in the European market. The EconoDot is an affordable, bench-top adhesive dispenser for packing, printing, direct mail, fulfillment, or manufacturing projects on a budget.
"We're excited to launch the EconoDot in Europe," said John Henderson, GDI's European Group Managing Director. "The EconoDot has a proven track record in the US and we're looking forward to providing our customers in Europe with the same cost-effective, low-maintenance, adhesive applicator."
As a turnkey solution, the EconoDot quickly and easily integrates into any production facility, requiring little downtime. Once the EconoDot has been loaded with a roll holding up to 8,000 Glue Dots, and the machine has been threaded, the user only needs to turn on the power. The clean, instant-bonding Glue Dots advance when the operator's hand or the product to which they're applying the adhesive, covers then uncovers the photo sensing eyebeam.
Henderson continued, "The EconoDot requires no programming, yet dispenses a single Glue Dots pattern at a rate of 60 patterns per minute, making it one of the most efficient, non-programmable bench-top adhesive applicators on the market."
The EconoDot will be available in Europe immediately.
For more information, visit http://www.gluedotseurope.com/econodot