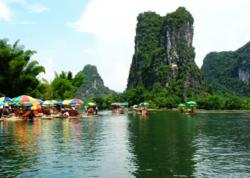 We enjoyed the Li River cruise so much, great! It was romantic. -- Shepherd
(PRWEB) April 13, 2013
WindhorseTour, a top local travel agency which customizes tours to popular destinations in China for foreign travelers, is pleased to announce the best time for photography lovers to capture the scenery in Guilin and Yangshuo is arriving in April. They have updated five Guilin tours on their website.
Located in the Guangxi of Southern China, Guilin is regarded as the pearl of China's thriving tourist industry because of the natural beauty. The green covered Karst hills with the verdant vegetation and crystal clear waters make the place such a paradise for the travelers that even have limited photography skills.
Cruising along the Li River is one of the most popular ways to capture the splendid scenery in Guilin. Usually the trip starts from the dock in downtown Guilin, and ends in Yangshuo, a peaceful county which serves as the base for backpackers. During the cruise, travelers will be astonished by the hills at each bend of the pure river under the blue sky. They will find a great escape from the concrete metropolis by seeing Water buffalo patrol the fields, peasants reap rice paddies, and fisherman float by on bamboo rafts. Shepherd, a client at WindhorseTour said, "We enjoyed the Li River cruise so much, great! It was romantic."
Generally it takes four hours on the cruise ships, and the journey continues in Yangshuo. WindhorseTour offer several activities for their clients to choose in Yangshuo. They can have a leisurely bike or hike into the countryside of Yangshuo to explore the culture and custom of locals. There are several ethnic minority groups living in this small town, including Hui, Zhuang, and Yao; While many foreign residents add exotic flavors to its fascination.
Enroute over a 4-day Guilin to Yangshuo tour, clients start their trip with a photography tour to the rice terraces in Longshen. Then they discover the unique beauty of Guilin with a cruise along the Li river to Yangshuo. After, they explore deep into the classical teared Chinese countryside on a bike.
WindhorseTour specializes in creating tailor made experiences based on every client's unique needs and operating groups to all provinces in China. Please visit WindhorseTour.com for more information or contact them.
Email address: news(at)windhorsetour(dot)com
TEL: (+86)-28-85593923, (+86)-28-86254701
Fax: (+86)-28-86254710