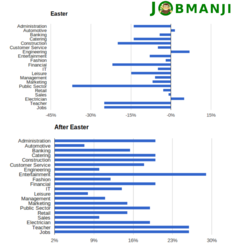 (PRWEB UK) 9 April 2013
Career trends
A detailed analysis of Internet data has revealed that the total number of online job searches during Easter week 2012 dropped by 25% in the UK. After the Easter week, while some sectors remained relatively unchanged, the number of people looking for jobs in other sectors increased significantly. The biggest increases were in the field of entertainment,which saw a 29% rise in job searches, and teaching where the number of job searches grew by 26%.
Research methodology
Online searches for jobs in 20 major industry sectors were measured during the week prior to Easter, during Easter week itself and again two weeks later. The data gathered was then analysed and the findings based on the Internet search trends were collated. Search levels prior to Easter were used as the baseline figures for examining Easter job search trends, and in every case the number of searches fell except in three specific sectors. Searches by people seeking jobs in the automotive industry rose by 2%, those for jobs as electricians by 5% and those for engineering jobs by 7%.
Major industries affected
The most noteworthy change during the Easter period was the stark decline in the number of searches for public sector jobs, which fell significantly by 37% – almost two-fifths of the number of pre-Easter searches represented in the baseline figures. There was a 25% reduction in people looking for teacher jobs and a 22% decline in searches for financial posts. When the economic climate is unfavourable the construction industry is often the first to shed jobs and the last to provide them and during Easter week construction job searches fell by 20%, although two weeks later the baseline level of job searches was regained.
Final outcomes
Notwithstanding the decline in Internet job searches during Easter week, a comparison between the baseline figures and the final outcomes indicates a steady growth of interest by jobseekers in some sectors and stagnation in others. For instance, the modest 5% increase in searches for electrician jobs rose by a further 14% after Easter reaching a 19% high overall. Other growth areas post Easter included customer service job searches, which fell by 5% during Easter week but reached 18% afterwards – a net growth of 13%. While the depressed number of searches for teacher jobs eventually recovered, the major decline in public sector job searches did not and was still 18% down on baseline levels two weeks after Easter.
Significant trends
The research based on Internet job searches is a useful barometer for national employment trends. For example, the Office of National Statistics (ONS) published statistics in December 2012 indicating that total UK public sector employment decreased for the twelfth consecutive quarter in Q3 2012, by 24,000 to 5.745 million.
When the ONS examined employment trends across all industries, it found that while employment increased overall, there was a 14,000 fall in the number of people unemployed between October and December 2012 compared to the previous three months, indicating that employers are successfully recruiting new staff.
Source: jobmanji