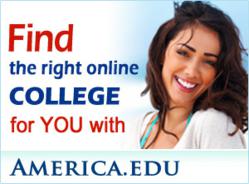 Education made easy with America.edu
(PRWEB) April 09, 2013
Obtaining a college degree is an important factor to help a person land a good paying job. It's just sad that not everyone can afford college education; either they lack in money or time. Due to the advancement of technology, along with research and studies; a new method of taking up a degree has been made readily available for the public.
America.edu is happy to announce that there are new online courses designed to fit the schedule of those who don't have the luxury of time to attend a normal university because of the work schedule. The number of graduates in a certain course varies, depending on what is in demand. Potential online students can be guided in deciding which course to take by researching what is in demand based on the economic status or they can also take a free exam available at America.edu to check which degree matches one's hobbies and interest.
Choosing the right virtual school is also important to fully maximize the online degree programs. Since online studying has become one of the solutions to the problem regarding education, there are now a lot of online schools offering degrees. A potential student must know how to choose the right virtual school to enroll in; America.edu features a wide selection of online schools that have been pre-selected to meet the standards set by the government.
Everyone has the right to finish a degree, time and money should not be a hindrance for one to fulfill that dream; as long as there's determination and action then most likely the turn out will be positive.
About America.edu:
America.edu is an online institution dedicated to provide service to potential online students who are seeking for a virtual school or degree to take. Fully licensed and has ties with known universities and schools all over the US, America.edu is the tool one can use in molding the future.