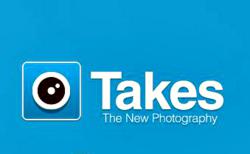 "Takes is one of the coolest ideas that I have seen this year.
(PRWEB) April 09, 2013
Takes, the camera application that transforms everyday photos into amazing videos, has retained Millennium Search, an executive search firm for technology companies, to help scale their team. With their recent notoriety and success, Takes is looking to begin expanding in several key areas.
Based in New York, Takes has been noted as one of the most promising apps to come out of SXSW this year. Users can take photos, and transform them into a progression of real moving video clips backed by synchronized music, all within the application's interface. Takes was recently TNW's Pick of the Day, and was noted as "seriously mind-blowingly fantastic" in The Huffington Post. The company is led by CEO and Founder Amit Man.
"We believe that photography isn't just about shooting images, it's about sharing our lives," says takes.com. "Takes is creating a new standard for sharing our live's most memorable moments. Our vision is to allow everyone to create and share their own 'Life Video' just by taking pictures."
Amish Shah, CEO and Founder of Millennium Search, expressed great interest in the app. "Takes is one of the coolest ideas that I have seen this year. The buzz that they've been getting really reflects that." says Shah of Takes. "Amit and his team at Takes are already getting some great press coming out of SXSW, but this is just the beginning. We're excited to help them build a team of top talent as they grow, which is our specialty."
Shah's company was retained to begin scaling the Takes team. Millennium Search is a recruiting firm catering to software focused technology companies, with clients ranging from mobile applications to big data, enterprise software, gaming and more. The company has a successful track record working with technology startups backed by prominent venture capital firms, and is a go-to firm for talent acquisition in the technology world.
Richard Moss, Senior Executive Recruiter for Millennium Search, will head the Takes account. Moss is an industry leading technical recruiter, and has been placing top talent for over 20 years. Based in Atlanta, Moss works with companies in New York, Chicago, San Francisco and other prominent startup hubs.
"Takes is going to be a lot of fun to work with," says Moss. "I've already started using the app for my family pictures, and am excited to work directly with Amit towards building his team"
About Millennium Search
Millennium Search is an executive recruiting firm placing top talent at early stage, mid stage, and Fortune 500 companies in the technology industry. Based in Charlotte, NC, the firm works with the technology sector in key locations including San Francisco, Chicago, New York City, Boston, Austin, Atlanta, and more. For more information, visit http://www.msearchllc.com.