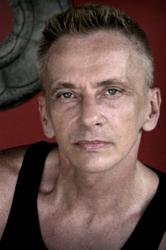 Tantric Yogassage goes well beyond the realm of what most people consider to be the confines of a massage treatment and works not just with touch and bodywork techniques but also with our rhythms, intuition and sensuality.
New York City, NY (PRWEB) April 09, 2013
Tantric Yogassage is a system of bodywork developed by German and American trained anatomy expert, certified yoga teacher and yoga teacher trainer Joschi Schwarz. TYS draws from the most powerful techniques of healing arts and integrates traditional Eastern therapies and more contemporary Western modalities into one of the most comprehensive forms of bodywork in the world.
Living in the technology age with a socially disconnected and low-touch culture, Joschi Schwarz believes tension in the body doesn't just stem from physical, but also emotional and stress related reasons, resulting in blockage of the flow of life energy (chi or prana). Tantric Yogassage uses touch, breath work, assisted yoga postures and sensory stimulation to connect the physical with the energetic world. The goal is to heighten feelings and emotions, experience pleasure, and open the door ways to access your true, authentic self.
In Schwarz's Tantric Yogassage Certification Programs students will learn how to use this powerful and holistic form of Joschi's technique effectively. Joschi Schwarz and his team of expert teachers will train students to work with the whole body and how to restore it to wellness. While TYS Certification Programs discuss important theoretical concepts about the human body, Tantric philosophies and the subtle body, this style of training focuses on a hands-on approach, developing student's sense of touch and intuition. Students will be working on bodies from day one guided by a team of teachers to offer advice and guidance, to demonstrate, correct and empower in a warm and non-judgmental atmosphere.
The unique training method of Tantric Yogassage is only available through the Joschi International School of Tantric Yogassage and is offered in New York City and locations around the world. Over the years, Joschi Yoga Institute has successfully graduated students from more than 75 countries with widely varied backgrounds from the novice to the highly-trained professional.
About Joschi Le Male Yoga:
Le Male Yoga is for fit men who aim to initiate a lifestyle that liberates, expands and energizes.
Le Male Yoga has personality. LMY is one place and is singularly focused on creating a new and different experience for fit, in-shape and athletic men to practice Tantra and Vinyasa Yoga in an accessible way.
Le Male Yoga provides a friendly, spirited, vibrant and real community for all men - gay, straight or bisexual, who enjoy fitness, communal bonding, socializing & having fun in a safe and pretense-free atmosphere.
Students explore Power Flow Yoga for a high-heat, high-energy workout, Tantric Yoga to tap into their sexual core energy and Yogassage to enhance their body's erotic potential.
Whether students are a beginner, advanced practitioner or somewhere in between... LMY offers a unique opportunity for every man to recharge his body, update his mindset and celebrate life.
Le Male Yoga offers one-of-a kind classes, workshops, teacher trainings and retreats in New York City and around the world.