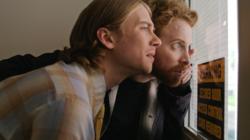 Tracie Hovey said, "We are so grateful that all these filmmakers were willing to share their work with our Maryland audiences."
Hagerstown, MD (PRWEB) April 08, 2013
On Saturday, April 13, the Maryland International Film Festival-Hagerstown, (MDIFF-H) will begin the evening entertainment at 6:30pm at Academy Theater with the screening of one short film, Titanic Love, and a full-length feature, "The Story of Luke," starring Seth Green.
Festival Vice President, Tracie Hovey said, "The films selected for screening on the festival's closing night are just a glimpse of the amazing talent that will be seen during the festival. We are so grateful that all these filmmakers were willing to share their work with our Maryland audiences."
The short film "Titanic Love" was produced and directed by Mark Pressdee of the United Kingdom. He has worked on productions for MTV and has had several award winning short films selected for the Cannes and Edinburgh film festivals. Pressdee will screen "Titanic Love" at MDIFF beginning at 6:30pm.
Synopsis: Lucy has found a Titanic Love cruise and wants to relive the Hollywood dream. Jack does not, they can't afford it and Lucy is furious. Their relationship hits rough waters and Jack calls on best friend Delroy for advice and a cheap alternative. True to form, Delroy and his trusty sidekick Jaz come up with a cunning plan that could change all their lives forever.
Following "Titanic Love" will be the full-length feature "The Story of Luke." The director Alonso Mayo is a graduate of the American Film Institute and has won a Student Academy Award. He has dazzled film audiences at Tribeca and now teaches screenwriting and directing at New York Film Academy, Universal Studios Campus. The "Story of Luke" has already garnered significant attention winning best film in several festivals around the country. "The Story of Luke" stars Lou Taylor Pucci, Seth Green, and Cary Elwes and was picked up for distribution recently.
"The Story of Luke" synopsis: Sheltered his whole life by his grandparents, Luke, a young man with autism, is suddenly thrust into a world that doesn't expect anything from him. But Luke is on a quest for a job and true love, and he isn't taking no for an answer. The film just inked a distribution deal and will be screening in various AMC theaters around the country.
After both screenings the film festival board of directors will announce the winners for Best Student, Best Animation, Best Short, Best Documentary, and Best Feature.
President Tom Riford said, "We couldn't have such a wonderful festival without all the hard work and dedication of the filmmakers to follow through on their hopes and dreams by creating these fantastic films. We look forward to seeing more of them in the future."
The Academy Theater is located at 58 East Washington Street, Hagerstown. The after party and "wrap party" is scheduled for the Gourmet Goat and GG's on North Potomac Street.
MDIFF-H 2013 is scheduled to run over three days and will screen 50 films from around the globe. All screenings will take place downtown Hagerstown. The screening will be held at the Maryland Theatre, Bridge of Life, and Academy Theater from April 11-13.
Sponsors for the film festival include the Hagerstown-Washington County Convention and Visitors Bureau, Power Marketing, The City of Hagerstown, Maryland Theater, Bridge of Life, Academy Theater, The Schmankerl Stube Bavarian Restaurant, Volvo and Volvo Group Trucks, The Columbia Bank, High Rock Studios, Leitersburg Cinemas, Anderson Photographs, Thompson Gas, Washington County Arts Council, 28 South, The Gourmet Goat, Bowman Hospitality, and Kaplan University. Other sponsors are listed on the festival's web site.
The MDIFF-H mission is to be a platform for independent filmmakers to engage audiences, collaborate with other filmmakers and educate the community with the celebration of film. For more information about MDIFF please call 916-712-2781, email Tracie(at)marylandiff(dot)com or access the website http://www.marylandiff.com. Tickets are available by calling the Maryland Theatre box office 301-790-3500.