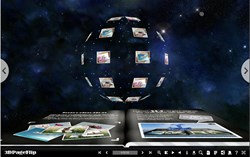 (PRWEB) April 08, 2013
Recently, FlipPageMaker.com, a renowned flipbook software supplier, has launched its Flipbook Creators Sale for April 2013. The sale extends savings on their dazzling collection of flipping book softwares. According to Jason Chen, CEO of FlipPageMaker.com, all the flipbook creators are available at discounted prices, up to 40% off, during April, 2013.
"We launch this Flipbook Creators Sale to expand our online market, and show our appreciation to our loyal customers as well. All our flipping book products are available with a great discount, up to 40% off. For those who want to quality and cheap flipbook softwares, it's time to shop for yourself now," said, Jason Chen.
He adds, "If you're in a hurry and need a flip book maker in a rush, then our collection is perfect for you! Choose one of our products at incredible low prices. Choose from a wide variety of stunning flipbook software. Buy today and you can get your flipbook creator online in few seconds."
The flipping book products from FlipPageMaker.com include many popular flipping book softwares in the market, like the FlipBook Creator for Windows, FlipBook Creator Professional for Mac, FlipBook Creator for HTML5 V 1.0.4, Office to FlipBook, and so on. They all can create flipping books with a better visual effect more quickly and easily, and help people to improve their working efficiency greatly."
About FlipPageMaker.com
Founded in 2008, FlipPageMaker.com is a leading online store that offers a full range of flipping book softwares. The company has a group of software engineers who can always create functional and handy designs for customers all over the world.
Visit http://www.flippagemaker.com for more details.