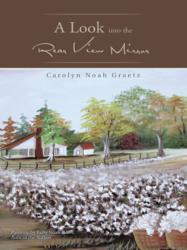 New Orleans, La. (PRWEB) April 10, 2013
Elements of America's past way of life will not likely come our way again. Carolyn Noah Graetz explores these days of old in her homespun memoir "A Look into the Rear View Mirror."
In "A Look into the Rear View Mirror," Graetz, a retired registered nurse, transports readers back in time while providing a guide for anyone wishing to write their own history.
The book is a memoir of Graetz' life growing up in the 1940s/50s countryside of Mississippi and her travels to New Orleans to study and practice nursing. She shares old photographs and links to historic world events as part of her unique genealogical format.
"Everyone has a story to tell," says Graetz. "I'd like for folks to read the book and use it to write their own story. I hope to use the profits from my book to help others do this."
Graetz' memoir provides readers with a tale of life in small-town Mississippi as well as the plights of a nursing student in the late 1950s.
"A Look into the Rear View Mirror"
By Carolyn Noah Graetz
Paperback: $14.75
eBook: $3.99
ISBN: 978-1-4634-4462-4
Available at http://www.amazon.com, http://www.barnesandnoble.com.
About the Author
Carolyn Noah Graetz is a lifelong learner and author currently working on two books: a book of haiku poetry with accompanying photographs and a book of stories she's collected from individuals she's met. Graetz was a registered nurse and registered nurse anesthetist for more than 40 years, passing her nursing boards at age 20 in 1959 and retiring shortly after Hurricane Katrina. In 1986, she decided to continue her education by earning a bachelor's degree in sociology while raising two children with her husband. Graetz was born in Carroll County, Mississippi, where she resided until graduating from Vaiden High School and enrolling in the Touro Infirmary School of Nursing in New Orleans. She earned her certification as an anesthetist from the School of Anesthesia at Charity Hospital in New Orleans.
###