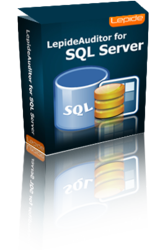 Noida (PRWEB) April 09, 2013
LepideAuditor for SQL Server is a comprehensive solution to track and report changes made to SQL server databases, their objects, permissions and configuration. LepideAuditor for SQL Server is designed and developed to help avoid unauthorized and unwanted changes causing server and database downtime and uphold compliances (HIPAA, PCI, SOX and ITIL etc.) through effective SQL Server tracking and instant intimation on critical changes.
LepideAuditor for SQL Server provides every minute detail about changes made in instances, databases, users, roles and logins and generates various reports on these changes. Software provides complete details of SQL server change including details of Who changed What, When and from Where.
SQL servers are preferred choice for all sorts of organizations that have to store significant amount of data which could be customer data or internal data. As SQL server acts as a storehouse of business critical data, its security assumes greater importance in the minds of database administrators. Hence, auditing all changes made to server and database becomes increasingly important. Besides, there are a number of industry-specific and government regulations that require you to archive, format and make all such precious data audit-ready.
LepideAuditor for SQL server takes into account aforementioned requirements and acts as a complete SQL server auditing software to fulfil all associated needs. Out of the box reports, simplified data presentation, Alerts and Automation are the key offerings of software that make a tedious and time-consuming task like auditing a breeze.
LepideAuditor for SQL Server- Features At a Glance
Answers 4 Ws of SQL server auditing – Who, What, When and Where for each change. Gives SQL statement related to each change.
Gather audit data from all SQL servers in the network into a central repository and audit all
changes from this centralized platform.
Extensive filtering option to search for required data.
Long term archiving to meet requirements of compliance standards such as (GLBA, SOX, PCI, and HIPAA).
Real time alert to inform Admins of critical changes occurring in the organization.
Automate report generation and delivery to intended recipients.
Export reports in various formats. Print reports to hard copy.
LepideAuditor for SQL server ensures safety of your critical data by timely auditing and reporting. It makes you aware of all changes including those with permissions to mitigate risks arising out of harmful changes.
Sustain compliance to avoid penalties and ill repute.
Software offers direct saving in time and cost that goes towards collecting Audit logs from multiple SQL servers in the network.
Efficient and secure storage of SQL server events log facilitates long term archiving for forensic investigation as well.
Free trial version:
LepideAuditor for SQL Server is also available as free trial version. Trial version is fully functional and gives users a fair idea about its capability and accuracy. The free version offers same features as the full version but can audit only two SQL servers in the network for not more than a trial period of 30 days. In order to use software after the trial period, user needs to purchase the full version of LepideAuditor for SQL server. Full version is available at an affordable price and can monitor any number of SQL servers in the network.
Supported versions:
Software supports all versions of SQL server from SQL server 2000 to SQL server 2012
About the Company:
Lepide Software Pvt. Ltd. provides solutions in the area of server management, network management and IT management. There are a number of products offered by company in these service areas. This product is a new addition in the companies' portfolio that has got recognition for its useful features at affordable costs. To know more about the company, visit its site: http://www.lepide.com/
Summary:
LepideAuditor for SQL server makes SQL server auditing a breeze with its easy-to-use features and intuitive layout. Product offers key features such as automation, reporting, centralized auditing, real time alerts and automated delivery that makes it a must-have for SQL server administrators.