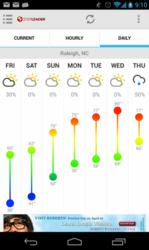 The future of news and weather apps ultimately hinges upon engaging user experiences
Las Vegas, NV and Norman, OK (PRWEB) April 08, 2013
StepLeader, Inc., the industry leader in mobile app development for local media, and Weather Decision Technologies®, Inc. (WDT), an industry leader in weather forecast and tracking technology, announce today a partnership that brings WDT weather data to StepLeader's suite of mobile products.
Current and future StepLeader customers who utilize WDT today will be able to integrate their rich weather data directly into their mobile apps across iPhone, iPad and Android devices.
StepLeader is currently working to enable current conditions, 10-day forecast, 48-hour forecasts and a host of detailed North America Satellite images. StepLeader and WDT are also working on enabling advanced alerting capabilities tied to watches, warning and severe weather in relation to a geographic location.
Brian Handly, CEO of StepLeader, states, "The future of news and weather apps ultimately hinges upon engaging user experiences. Weather features consistently prove to be one of the highest drivers of user engagement and retention in our apps. Working with a trusted content producer like WDT allows us to greatly expand our weather coverage and live out our mission, helping our customers earn more advertising revenue through engaging apps."
"This mutually beneficial partnership with StepLeader will deliver to customers an integrated display solution utilizing WDTs superior weather data," says Mike Eilts, President & CEO of WDT. "Innovative sources of revenue generation such as StepLeader's solution will position both companies as partners to media properties by creating growth in new ways."
As a result of this partnership, StepLeader will be introducing weather related targeting features for advertisers at both the local and national level.
About Weather Decision Technologies
Founded in 2000, Weather Decision Technologies is a high technology leader in the weather industry, providing life-safety applications and weather decision support services and systems to our partners and customers. WDT maintains operational offices in Norman, Oklahoma, and Atlanta, Georgia. Corporate website: http://www.wdtinc.com
About StepLeader
Located in downtown Raleigh, NC, the heart of North Carolina's innovation hub, StepLeader formed in 2005 when it developed the nation's first news app for local media. Today, the company offers solutions and thought-leading expertise to help trusted content producers deliver their stories across mobile apps, mobile websites and smart TV apps. StepLeader provides advertisers with transparent access to a nationwide audience, delivering over 200 million ads monthly. StepLeader has a proven track record of delivering return-on-investment for its partners, including Scripps Television Station Group, Fox Television Stations, Morgan Murphy Media, News-Press & Gazette Company (NPG) and Capitol Broadcasting Company. http://www.stepleaderdigital.com
Media Contacts:
Matthew Davis
Director of Product Marketing | StepLeader, Inc.
mdavis(at)stepleaderdigital(dot)com
919.573.9712 [w]
919.593.6151 [m]
Lolly Taylor
VP Marketing | Weather Decision Technologies, Inc.
ltaylor(at)wdtinc(dot)com
405.579.7675 x225 (w)
405.664.0332 (m)