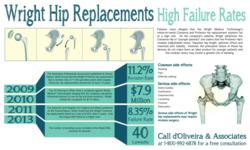 (PRWEB) April 08, 2013
Wright Medical Technology's has been designing and manufacturing orthopaedic devices for over 60 years (i). Among its devices, the company has two metal-on-metal hip replacements—the Conserve and Profemur. On the Wright's website, it advertises the Conserve Hip to "younger patients" and claims that the Profemur Hip's modular (adjustable) necks "equalize leg length, optimize offset and maximize joint stability (ii).
National databases of two countries have recorded the failure rates of many metal-on-metal hips including the Conserve and Profemur hip replacement systems. In 2009, the Australian Orthopaedic Association published its Annual Report, which found that the Wright Profemur hip replacement had a revision rate of 11.2% just three years after surgery (iii). In 2011, the National Joint Registry for England and Wales published its 8th Annual Report, which found that the Wright Conserve hip replacement failed at a rate of 8.35% after 5 years (iv). Only the Depuy ASR Hip Replacement System failed at a higher rate (iv). According to the Chicago Tribune, hip replacements should last 15 years (v).
The Wright infographic illustrates the components of a hip replacement, which are the ball (simulates the femoral head) and the cup (simulates the hip sock). Additionally, the infographic provides a list of potential side effects that allegedly include swelling and device loosening, fracture, or dislocation. Visit the Wright Hip section of the d'Oliveira and Assoicates's website for more or view the infographic here: Wright Hip Replacement Infographic.
If you or a loved one has experienced painful side effects from a Wright hip replacement, you may want to file a claim. You should find the best personal injury lawyer because you may only have one chance to obtain justice. A lawyer familiar with new developments in defective hip replacements may be able to help you make important personal and legal decisions. d'Oliveira & Associates, P.C, is working with some of the more experienced Wright lawyers in the country who are handling these cases.
Please contact the law offices of d'Oliveira & Associates, P.C. at 1-800-992-6878 or fill out a contact form for a free legal consultation.
(i) http://www.wmt.com/corporate/about-wright.asp
(ii) http://www.wmt.com/physicians/products/hips/default.asp
(iii) https://aoanjrr.dmac.adelaide.edu.au/documents/10180/42728/Annual%20Report%202009?version=1.1&t=1349406243327
(iv) http://www.njrcentre.org.uk/NjrCentre/Portals/0/Documents/NJR%208th%20Annual%20Report%202011.pdf
(v) http://articles.chicagotribune.com/2011-07-27/health/sc-health-0727-lifespan-of-joints-20110727_1_recovery-time-implant-hospital-charge