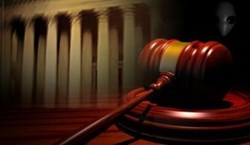 It's no longer just about lights in the sky, it's about lies on the ground.
Washington, DC (PRWEB) April 08, 2013
As the Mars Rover steps forward seeking proof of existence of extraterrestrial life on Mars, former members of Congress step forward to participate in a Citizen Hearing on Disclosure of an extraterrestrial presence right here on and around the Earth.
Congresswomen Darlene Hooley and Lynn Woolsey will join Senator Mike Gravel, Congresswoman Carolyn Kilpatrick and Congressman Merrill Cook to listen and question 40 researchers, activists and military/agency/political witnesses addressing proof of an extraterrestrial presence in our world now.
The Citizen Hearing on Disclosure will be held at the National Press Club in Washington, DC from April 29 to May 3, 2013, will operate using the same protocols as Congressional hearings and will include 30 hours of testimony with Q&A.
Has an extraterrestrial presence been engaging the human race since the mid-20th Century, if not throughout human history? "The Citizen Hearing on Disclosure will attempt to accomplish what Congress has failed to do for forty-five years - reveal the facts surrounding the most important issue of this or any other time." commented CHD Executive Director Stephen Bassett.
Bassett added, "The motto for this unprecedented event is, 'If the Congress will not do its job, the people will.' That is why researchers and witnesses from around the globe are coming together to participate in an event which will also be the basis for the upcoming documentary film Truth Embargo."
"It is now time to put away this embargo of truth about the alien presence," claims Dr. Edgar Mitchell, Apollo 14 Astronaut and International Spokesperson for the Citizen Hearing on Disclosure.
Full information can be found at the Citizen Hearing on Disclosure website: http://www.citizenhearing.org
Requests for interviews with witnesses, Committee Members, Dr. Edgar Mitchell, or Stephen Bassett should be directed to:
CHD Media Contact Janet Donovan:
(202) 904-1035
creative.enterprises.int(at)gmail(dot)com
The Citizen Hearing on Disclosure is a project of Paradigm Research Group.
Contact Stephen Bassett: PRG(at)paradigmresearchgroup(dot)org 202-215-8344