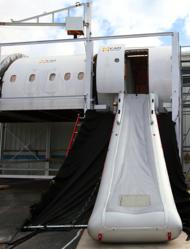 Miami, FL (PRWEB) April 09, 2013
EAM Worldwide, also known as Eastern Aero Marine, manufacturer of life vests, life rafts and survival kits reveals its first evacuation slide today at the Aircraft Interior's Expo 2013 Hamburg, Germany. The single lane escape evacuation slide is the latest addition to the EAM product portfolio. The EAM ES-320F, the first product in the EAM slide series, fits the specifications of the A320 aircraft family and is designed and tested to meet FAA TSO-C69c.
The ES-320F slide offers an improved durable composite packboard design and new generation high & mid intensity white LED lights for greater visibility during evacuation. It is assembled with heat seal technology to ensure reliability in even the most extreme conditions.
"Our ES-320F is just the beginning of our slide offerings. We are working to complete an entire ship set and will offer off-wing and slide rafts by 2014," stated Eloy Leal, Director of Operations & Engineering.
EAM Worldwide headquarters will be the sole distributor of EAM slides initially and the Company has designated four repair stations from its current network to service the first EAM slides. These repair stations are E.M.S., located in Paris, France; Australian Maritime Systems (A.M.S.) in Queensland, Australia; W. H. Brennan in Singapore and Ingeniería Semasa in Madrid, Spain.
"Our clients have been requesting a slide product for several years. We will meet and exceed their needs with our initial product offering and international slide repair station partners," said Manny Gato, Director of Sales.
The EAM ES-320F will be on display at the Company's stand (7C20) for the duration of AIX 2013.
Complete specifications for the ES-320F can be found by visiting EAM Worldwide Slide.
ABOUT EAM WORLDWIDE
Celebrating over 60 successful years in business, EAM Worldwide delivers high-quality safety equipment and technology to help ensure the survival and well-being of each passenger and crew member. Providing exceptional client service to the aviation and marine industries, EAM also helps support the financial and operational sustainability of each client. With its latest RFID technology and innovation in its customizable life vests, rafts and kits, EAM continually delivers on its promise. EAM Worldwide is headquartered in Miami, Florida with a global sales office in Dubai, United Arab Emirates.