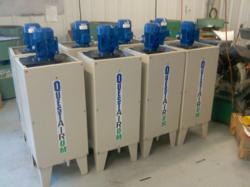 The Quest Air OM500 unit is an affordable unit that requires minimal maintenance, operational costs, and can be configured in multiple ways. - Phil Roland, President of Aquest Corporation
(PRWEB) April 09, 2013
Aquest Corporation has had great success over the course of the last year with the Quest Air OM500 Oil Mist Collector. It has performed well in capturing oil mist.
A recent order with a large fiber laser manufacturer, has once again put Aquest Corporation on the map, only this time the map has expanded to Germany.
Aquest Corporation is a full-service provider for industrial air filtration and air pollution control equipment. Aquest will design, engineer, install, and service dust collection, odor control, and oil mist collection systems.
As a 27-year-old company located in Somers, CT and Saco, ME, Aquest has always invented new ways to solve problems for its customers. The creation of the Quest Air OM500 unit was fueled by the growing oil mist problems in facilities and the lack of proper air filtration in New England.
The Quest Air OM500 unit was designed and built by Aquest Corporation to provide the customer with an affordable solution that worked. It has been tested in the field and has performed well.
The Quest Air OM500 offers three stages of filtration. Each stage reduces the overall size of the oil droplets entrained in the air. Once exhausted out of the top of the unit, the quality of the air is highly efficient.
Reclamation of oils captured in the OM500 unit can be drained back in the sump of a CNC machine or collected in a pan or bucket.
Standing at 32" tall with a base of 16" by 16," the Quest Air OM500 oil mist collector is small enough to put on top of a machine, hang from the ceiling, or place on the ground.
Aquest Corporation will be showing this new oil mist collector at the upcoming EASTEC Show at the BIG-E Fairgrounds from May 14th-16th. Please stop by booth number 3151.
Please consult Aquest Corporation for your present and future needs concerning dust collection, oil mist collection, odor control, filters and service. Aquest is located at 626 Main Street in Somers, CT.