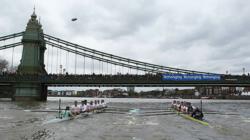 (PRWEB UK) 8 April 2013
Oxford beat Cambridge by a length-and-a-half in this year's boat race. Rowing is commonly considered a sport for the upper class individual with most professional rowers having received private education. It has been argued that the elitist reputation of rowing cannot be avoided due to the location and equipment required however Gymkit UK disagree. Set up in 2001, Gymkit UK is a growing company that sells commercial gym equipment at inexpensive prices. They do so with the aim of making all sorts of sports accessible to everybody.
Gymkit UK buys and sells commercial gym equipment including treadmills, cross trainers, exercise bikes and rowing machines and their warehouse holds up to 6000 items at any one time. Gymkit UK employee Alex Wright commented by saying "I wouldn't consider taking up a sport like rowing as I don't see how it would be possible. Where I live the facilities aren't available and I'd expect it to be pretty expensive". Gymkit UK therefore suggest purchasing one of Gymkit UK's rowing machine for sale, perfect for home use to encourage those interested in the sport. "This is definitely a good place to start", said Mr Wright, "You can take up rowing in the comfort of your own home and receive the benefits from rowing without having to endure the harsh conditions that can come with it".
Gymkit UK have been extremely successful over the past 12 years and have supplied gym equipment not only to the general public but also to top hotels and celebrities. For their extraordinary prices the customer receives a quality piece of gym equipment as well as expert advice from any one of Gymkit UK staff who all have fitness industry backgrounds. Furthermore, Gymkit UK also employee over 20 fully qualified service engineers who thoroughly scrutinize, test and clean all gym apparatus before it is dispatched. Delivery is then available nationwide and service engineers are on hand to install equipment in to the desired location if necessary. The business has also broadened in to other areas including Teeter Inversion equipment which is aimed at those that suffer with back problems. As the UK's sole distributer, Gymkit UK has a Teeter brand manager who is able to offer specialist guidance regarding the equipment and delivery is available internationally. Gymkit UK are also pleased to announce becoming the sole UK distributors for One Polar Rucksacks
If you are an individual or business looking to buy or sell commercial gym equipment, please contact Gymkit UK on 01733 205551 or visit http://www.gymkituk.com.