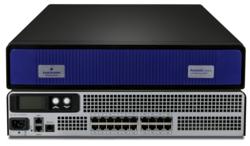 Huntsville, AL (PRWEB) April 08, 2013
Emerson Network Power, a business of Emerson and a global leader in maximizing availability, capacity and efficiency of critical infrastructure, today introduced Avocent® Matrix High Performance KVM – the next generation of High Performance KVM products for the broadcast industry. The first Avocent Matrix product is being introduced at the National Association of Broadcasters convention, NAB Show®, which runs April 6-11 in Las Vegas, Nevada.
The Avocent Matrix High Performance KVM product line offers benefits for content creation, production and delivery. Designed as a digital growth platform, the Avocent Matrix product line enables customers to expand as new technologies such as higher video resolutions, improved USB standards and video interfaces become available. It also provides the reliability required for 24-hour mission critical facilities and is highly configurable and scalable, giving broadcast engineers the flexibility to manage their system now without worrying about hardware changes in the future.
The Avocent Matrix product family is easy to implement because of its redesigned management software suite that centralizes configuration, maintenance and user-role setup into one streamlined interface. Compatibility with LDAP and other user authentication frameworks allows the Avocent Matrix to easily be added to existing workflows and setups.
Transmitters powered through Power over Ethernet (PoE) eliminate the need for power adapters for every transmitter. Being able to remove a power supply from each transmitter decreases the number of items in the rack and reduces installation complexity. In addition to the benefits of PoE, transmitters and receivers are fully sealed and passively cooled. This increases reliability and helps provide a quieter environment for radio or audio production.
With an emphasis on digital file-based workflows in the media and entertainment industry, Avocent Matrix can integrate with the Trellis™ platform to provide customers greater flexibility, reliability and a secure content management and delivery capability. This will allow broadcast executives to leverage internal IT capabilities to provide digital content to numerous digital platforms and channels without multiplying costs.
"Avocent Matrix demonstrates our commitment to investing in high quality switching KVM technology and delivering solutions that solve complex issues," said Steve Hassell, president of Emerson Network Power's Avocent business. "We will continue to maintain our broadcast market technology leadership by providing trusted products and solutions for content creation, production and delivery that are highly reliable and available, easy to use, and backed by global professional services and support."
Emerson Network Power will showcase the Avocent Matrix High Performance KVM and Trellis platform in booth # N3119 at the NAB Show. Steve Hassell and Phil Bernal, managing engineer of Emerging Technologies at Diversified Systems, will present Broadcast Engineering and IT: Learn Where the Market is Headed and How Infrastructure Management Impacts You, on Tuesday, April 9, 10 a.m.-11:30 a.m. in room S224.
To learn more about Emerson Network Power's KVM products, please visit http://www.emersonnetworkpower.com/en-US/Products/KVM/HighPerformanceKVM/Pages/Default.aspx.
About Emerson Network Power
Emerson Network Power, a business of Emerson, delivers software, hardware and services that maximize availability, capacity and efficiency for data centers, healthcare and industrial facilities. A trusted industry leader in smart infrastructure technologies, Emerson Network Power provides innovative data center infrastructure management solutions that bridge the gap between IT and facility management and deliver efficiency and uncompromised availability regardless of capacity demands. Our solutions are supported globally by local Emerson Network Power service technicians. Learn more about Emerson Network Power products and services at http://www.EmersonNetworkPower.com.
About Emerson
Emerson, based in St. Louis, Missouri (USA), is a global leader in bringing technology and engineering together to provide innovative solutions for customers in industrial, commercial, and consumer markets around the world. The company is comprised of five business segments: Process Management, Industrial Automation, Network Power, Climate Technologies, and Commercial & Residential Solutions. Sales in fiscal 2012 were $24.4 billion. For more information, visit http://www.Emerson.com.