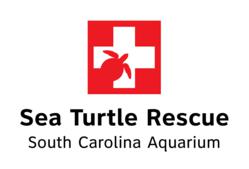 Charleston, S.C. (PRWEB) April 08, 2013
A caravan of sea turtles made its way down the east coast this weekend. In all, 52 sea turtles were released as part of the Sea Turtle Trek that started in Cape Cod, Massachusetts and ended in Jacksonville, Florida. The South Carolina Aquarium was able to get 5 sea turtles on that caravan. Four were rehabilitated in the Aquarium's Sea Turtle Rescue Program and the fifth was from an exhibit. All were released Sunday morning off of the beach in Jacksonville.
More on the turtles released:
McNally, Kennedy, and Kit:
All three sea turtles were found cold stunned along the east coast this winter. McNally and Kennedy, both Kemp's ridley sea turtles (the most endangered sea turtle species) were found cold stunned in New England. They were originally picked up by the New England Aquarium's Marine Animal Rescue Center and transferred to the South Carolina Aquarium for treatment. Kit, a juvenile loggerhead sea turtle, was found cold stunned off of Avon, North Carolina and transferred to the Aquarium's Sea Turtle Hospital for care. Cold stunning occurs when coastal water temperatures drop drastically and the sea turtles go into hypothermic shock. After several months of fluids, antibiotics, vitamins to correct blood deficiencies, and plenty of TLC, the turtles were given a clean bill of health and cleared for release.
Ollie:
Ollie is a juvenile green sea turtle that was hit by a boat on the Folly River. In a rare turn of events, Ollie was rescued by NOAA employees who witnessed the accident. They were able to get him to the Aquarium's Sea Turtle Hospital to receive treatment within 2 hours, greatly increasing his chances for survival. Ollie suffered from propeller strikes to his jaw and carapace. Treatment included fluids, pain medication, antibiotics, and laser therapy to help accelerate cell growth in the wound. After seven months of care, Ollie's wounds had healed and he was medically cleared for release.
Exhibit Sea Turtle:
The fifth sea turtle to join the release was from the Aquarium's Sea Turtle Exhibit. The turtle was collected for the Aquarium as a hatchling by the South Carolina Department of Natural Resources and was on exhibit as an ambassador for its species until it reached maximum size allowed by SCDNR. The turtle received a health evaluation and was cleared for release.
The sea turtles were all released late Sunday morning in Jacksonville. They were taken to Florida because the water temperature is at or above 70 degrees which is required for a sea turtle release. The South Carolina Aquarium would like to extend a big thank you to the New England Aquarium and the National Aquarium in Baltimore for making the sea turtle release possible.
How to Help:
You can help care for sea turtles in recovery in the Aquarium's Sea Turtle Rescue Program by going to http://www.scaquarium.org and making a donation. While online you can also visit the Sea Turtle Hospital's blog at http://seaturtlehospital.blogspot.com/ to track the progress of patients currently being cared for at the hospital. You can also find out more about visiting the hospital as part of a behind-the-scenes tour.
For all media inquiries, please contact Kate Dittloff at (843) 579-8660 or kdittloff(at)scaquarium(dot)org
About the South Carolina Aquarium Sea Turtle Rescue Program:
In partnership with the South Carolina Department of Natural Resources (SCDNR), the South Carolina Aquarium Sea Turtle Rescue Program works to rescue, rehabilitate and release sea turtles that strand along the South Carolina coast. Located in the Aquarium, the Sea Turtle Hospital admits 20 to 30 sea turtles each year. Many of these animals are in critical condition and some are too sick to save.
According to SCDNR, over the last 10 years the average number of sea turtle standings on South Carolina beaches each year is 130. Of these, roughly 10% are alive and successfully transported to the Sea Turtle Hospital. To date, the South Carolina Aquarium has successfully rehabilitated and released 106 sea turtles and is currently treating 19 patients. The average cost for each patient's treatment is $36 a day with the average length of stay reaching nine months.
About the South Carolina Aquarium:
The South Carolina Aquarium, Charleston's most visited attraction, features thousands of amazing aquatic animals from river otters and sharks to loggerhead turtles in more than 60 exhibits representing the rich biodiversity of South Carolina from the mountains to the sea. Dedicated to promoting education and conservation, the Aquarium also presents fabulous views of Charleston harbor and interactive exhibits and programs for visitors of all ages.
The South Carolina Aquarium, a 501(c)(3) not-for-profit organization and is open Daily from 9 a.m. to 6 p.m. The Aquarium is closed Thanksgiving Day, half day Dec. 24 (open 9 a.m. to 1 p.m.) and Dec. 25. Admission prices are: Toddler's (3 and under) free; Youth (4-12) $14.95; Adults (13+) $24.95. The Aquarium plus the 4-D Theater experience is free for Toddler's, $19.95 for Children, $29.95 for Adults. The 4-D Theater experience only is $6.95 for Children and adults, and free for Members. For more information call 843-720-1990 or visit scaquarium.org. Memberships are available by calling 843-577-FISH.