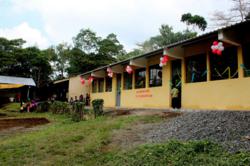 New York, New York (PRWEB) April 09, 2013
Poppin, an innovative online retailer selling colorful work-lifestyle essentials, has partnered with non-profit Pencils of Promise to build four schools in developing countries in 2013. After successfully building their first in Guatemala earlier this year through Justin Bieber's Schools4All initiative, Poppin and Pencils of Promise announce a new collaboration with Grammy-nominated recording artist Jordin Sparks for a social media campaign encouraging people to help build the next school by liking Facebook.com/Poppin.
In the video released today on Sparks' Facebook and Twitter pages, the singer rallies her nearly 5 million fans and followers to participate. For each new like on Poppin's Facebook page, an additional $1 will be donated toward building a school. It takes 25,000 likes to build one school.
"I am excited to partner with Pencils of Promise and Poppin to bring access to education to kids who wouldn't have it otherwise," says the season six American Idol winner Sparks. "One simple like on Facebook can bring us closer to building a school!"
Learn Happy
Poppin was founded with the unique mission to help people everywhere "work happy" and is extending this philosophy to children whom they believe should have the opportunity to "learn happy." "From day one, it has been of the utmost importance to us to build a philanthropic component into Poppin's DNA, and we quickly found the perfect partner in Pencils of Promise," explains CEO Randy Nicolau.
"There's such a natural connection between Poppin's office, dorm and classroom supplies, and our work educating children around the world," says Pencils of Promise Founder Adam Braun. "Poppin represents the type of philanthropic mindset that we believe people deeply value."
Customers and fans that have contributed through a purchase or a Facebook like can follow the progress of each school build, from watching construction break ground to meeting the students who will fill the classrooms. The activity will be chronicled on Poppin's "Learn Happy" Facebook tab.
In addition to donating $1 per like, Poppin will be giving away five prize packs, each of which includes a Medium Soft Cover notebook autographed by Sparks. Enter to win by following the instructions on Poppin's Facebook page. The contest will be live through Tuesday, April 30, 2013.
For more information, visit poppin.com/philanthropy, Facebook.com/poppin, and PencilsofPromise.org.
About Poppin:
Poppin, Inc, is an innovative online retailer offering a distinctive collection of chic yet affordable workstyle products and an engaging shopping experience. Established with the unique mission to provide people with everything they need to work happy, Poppin intends to become the first company that makes buying, using, looking at, and thinking about office products an extraordinary experience. The company is privately held and financed by J. Christopher Burch, Shasta Ventures, First Round Capital and a group of angel investors.
About Pencils of Promise:
Pencils of Promise ("PoP") is a nonprofit organization founded in 2008 with the goal of increasing access to quality education by creating schools, programs, and global communities around the common goal of education for all. Started with $25, PoP has broken ground on over 100 schools throughout Laos, Nicaragua, Guatemala, and Ghana.
###