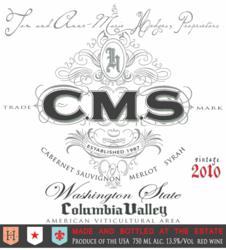 CMS Red was the first red blend out of WA State.
Benton City, WA (PRWEB) April 09, 2013
Tom Hedges, proprietor of Hedges Family Estate in WA State, says that the 2010 CMS Red, their iconic red wine blend of Cabernet Sauvignon, Merlot, and Syrah, is the best they've ever made. The 2010 vintage can now be found in retail stores and restaurants across the country.
Tom and Anne-Marie Hedges introduced CMS Red to the market in 1987. "As far as I know, CMS was the first red blend out of WA State, back when everyone was embracing the California single variety phenomenon." Now, blends, perhaps more than any singular variety, define Washington State.
Regarding the current release, Hedges says, "For those who are interested in traditional-style wines, as we are at Hedges, the CMS Red 2010 epitomizes Washington's ability to blend three of the state's best grape varieties into one harmonious, balanced, food-friendly wine. With a cool growing season and classic warm, dry harvest conditions, pure fruit, crisp acids, and moderate alcohol make for a multi-layered wine to drink today, or for many years to come."
Anne-Marie's family roots in Champagne have a strong influence on the philosophy and style of all of the Hedges wine, and the 2010 vintage played perfectly to their desires for wines of restraint and finesse. The 2010 CMS Red is composed of 48% Cabernet Sauvignon, 40% Merlot, and 12% Syrah, and the alcohol is 13.5%. It's traditional-style packaging speaks to the Hedges family's belief in authenticity over glitz branding.
Hedges Family Estate makes red and white wines from the Columbia Valley and Red Mountain AVAs. They are located on Red Mountain in WA State.