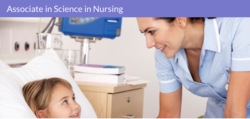 Pittsburgh, PA (PRWEB) April 09, 2013
Pittsburgh Technical Institute (PTI) announced approval from the Pennsylvania State Board of Nursing and the Middle States Commission on Higher Education (MSCHE) to offer an Associate in Science in Nursing program beginning in July 2013.
The seven-quarter program is designed to enroll students into a cohort model, an advantage of PTI's program, which streamlines course availability and guarantees that ASN students will take nursing courses from the first day of class. "We assure our students that if they work hard to progress, they will be able to complete the program in less than two years," said Lynette Jack, Academic Chair, PTI School of Nursing.
PTI's 21-month ASN program curriculum was developed to meet competencies established by the National League of Nursing and prepares students to sit for the NCLEX-RN exam upon graduation for licensure as a Registered Nurse.
"Job expectations for the RN include additional responsibility for leadership and management of complex patient care," said Jack. Career opportunities include positions in hospitals, pediatric settings, hospice care, critical care and private physician offices.
Distinguishing features of PTI's new ASN program include extensive simulation technology and hands-on skills labs. Each student will use a personal iPad mini and Nursing Central software to access online nursing resources through subscription. "We don't want students to rely on textbooks that can become out of date," said Jack. "With these resources, students will become accustomed to working with the same types of information sources used in modern healthcare practice."
The ASN degree consists of 76% nursing courses and 24% general education courses. Students are required to spend 55% of their nursing course time in clinical rotations or labs including primary care and wellness, acute care, chronic illness, OB-GYN, pediatrics, psychology, and an area of the student's interest.
"Nursing is both an art and a science," said Jack. "It's imperative that students use their ability to care about people, along with reasoning, judgment and knowledge and learn to see themselves as decision makers." According to Jack, the program maintains a strong emphasis on courses in science and critical thinking in addition to nursing courses that develop clinical reasoning and hands-on skills.
A sample of nursing degree program courses required of PTI's ASN students are Anatomy & Physiology, Microbiology, Nutrition, Primary Care & Wellness, Pharmacology, Acute Care of the Adult, Care of the Adult with Chronic Illness, and Professional Transition to Practice.
The ASN degree is PTI's second program offering within its School of Nursing. PTI began offering a Practical Nursing (PN) program in July 2010 which prepares nursing students to become Licensed Practical Nurses. PTI PN graduates consistently pass the state NCLEX-PN licensure exam with a 94% first attempt pass rate.
PTI's PN credits are fully transferable into its ASN program; PTI PN degree graduates can complete the ASN program in just nine months. Additionally graduates of other practical nursing programs can take advantage of opportunities for advanced standing.
"Abundant evidence suggests that advanced education in nursing significantly reduces clinical risks and increases the quality of patient care," said Jack. "We planned our curriculum to make it possible for students to smoothly transition when they choose more education."
In addition, PTI ASN courses are designed to meet some curriculum requirements of an RN to BSN program, so graduates will have an incentive to continue their education in nursing at the next level. PTI has an established articulation agreement with the School of Nursing at Robert Morris University and is exploring several others.
Lynette Jack was appointed to the position of Department Chair in January 2012 and earned a Bachelor of Science in Nursing at the State University of New York Buffalo, and both a Master's in Nursing and a Ph.D. in Higher Education at the University of Pittsburgh.
###
ABOUT PITTSBURGH TECHNICAL INSTITUTE
Offering career-focused education since 1946, Pittsburgh Technical Institute is a two-year college with a 180-acre campus in North Fayette, west of Pittsburgh.
PTI offers degree and certificate programs in areas such as Business, Criminal Justice, Hospitality and Culinary Arts, Design, Healthcare, Nursing, Information Technology, Trades Technology, and Energy and Electronics Technology.
PTI students can take advantage of online course offerings, on-campus residence halls, student activities, intramural programs and community service programs.
PTI is accredited by the Middle States Commission on Higher Education.
PTI was recognized by its employees as one of the region's Top Places to Work in a 2012 study commissioned by The Pittsburgh Post-Gazette and is designated a Military Friendly School for the third consecutive year.