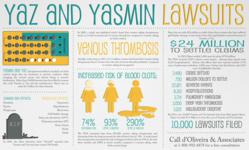 (PRWEB) April 09, 2013
Yaz and Yasmin (drospirenone/ethinyl estradiol) are birth control drugs that use hormones to prevent ovulation while changing the cervical mucus and uterine lining to prevent fertilization (i). Yaz was approved in 2006 and Yasmin was approved in 2001. According to Reuters, there are currently more than 10,000 lawsuits filed against Bayer for its products, Yaz and Yasmin. Because of the large number of lawsuits, Bayer has set aside $1.5 billion (ii).
The FDA has added warnings to Yaz and Yasmin after medical studies have shown these drugs may increase the risk of blood clots (iii). In May 2009, the British Medical Journal published a study, which found that women taking birth control pills containing drospirenone faced a 6.3-fold increased risk of venous thrombosis compared to women taking no birth control (iv). In October 2010, the FDA examined data from 835,826 women taking birth control pills containing drospirenone and determined that the drug increased the risk of blood clots by 74% (v).
The Yaz and Yasmin infographic illustrates that these birth control drugs allegedly increase the risk for blood clots over time. Additionally, the new infographic provides a list of possible side effects of taking pills containing drospirenone, including depression, blood clots, and gall bladder damage. Visit the Yaz page at d'Oliveira & Associates and view the infographic here: Yaz and Yasmin Infographic
If you or a loved one has experienced side effects after taking Yaz, you may be entitled to receive compensation. A Yaz lawyer familiar with new developments of this birth control drug may be able to provide important personal and legal advice. d'Oliveira & Associates, P.C. is working with some of the more experienced Yaz lawyers in the country who are handling these cases.
Please contact the law offices of d'Oliveira & Associates at 1-800-992-6878 or fill out a contact form for a free legal consultation.
sources
(i) http://www.yaz-us.com/
(ii) http://newsandinsight.thomsonreuters.com/Legal/News/2013/03_-_March/Bayer_reserves_$1_5_bln_to_cover_Yasmin,_Yaz_lawsuits/
(iii) http://www.fda.gov/Drugs/DrugSafety/ucm299305.htm
(iv) http://www.bmj.com/content/339/bmj.b2921
(v) http://www.fda.gov/Drugs/DrugSafety/ucm277346.htm