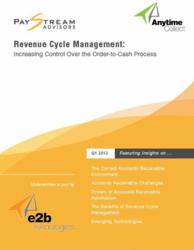 There are many companies out there who have accounts receivable problems and do not even realize it...This report stresses the importance of effectively managing accounts receivable
Chardon, Ohio (PRWEB) April 09, 2013
e2b teknologies, developers of Anytime Collect accounts receivable credit and collections management software , recently collaborated with industry analyst firm PayStream Advisors and other software providers to produce the 2013 Revenue Cycle Management: Increasing Control Over the Order-to-Cash Process business report. The report serves as a comprehensive guide to current trends in accounts receivable credit and collections management and includes case studies, current research, and in depth reviews of leading accounts receivable automation software available on the market today.
"There are many companies out there who have accounts receivable problems and do not even realize it," said James Mallory, e2b teknologies Director of Marketing. "This report stresses the importance of effectively managing accounts receivable through automated collections activities. Without the correct tools and strategies, credit departments suffer from erratic collection efforts, conflicting priorities, inconsistent processes, difficulty in identifying and resolving disputes, low customer satisfaction, invoice discrepancies, and countless other problems that hinder their bottom line. The report touches on these challenges and how the right RCM solution can address them."
The 2013 RCM report outlines benefits commonly recognized by those who automate collections efforts – for example, dramatic improvements in receivables performance with results such as a 10 to 20 percent reduction in days sales outstanding (DSO), 25 percent reduction in past due receivables, and a 15 to 20 percent reduction in bad debt reserves. Results such as these lead to significantly increased cash flow, profitability, and productivity.
The RCM report explores the different types of Accounts Receivable credit and collections management automation software available on the market today, such as Anytime Collect, accounts receivable credit and collections management software from e2b teknologies. Readers will gain knowledge of the current accounts receivable environment, in-depth analysis of leading products, tips on how to choose the right solution for their business, and how to take the next steps toward accounts receivable automation.
The report can be downloaded for free here or by visiting http://www.e2banytime.com
About e2b teknologies:
e2b teknologies provides cloud-based business software applications and business services to progressive businesses worldwide. e2b anytime apps is the publisher of Anytime Supply Chain, Anytime Commerce, Anytime Collect, and related Anytime brand products. e2b enterprise develops custom cloud-based business applications and resells leading ERP accounting software, CRM, HRMS, and other enterprise business software applications from Sage Software, Epicor, Intacct, SugarCRM, and other publishers. e2b calibration is an ISO/IEC 17025 accredited calibration laboratory.