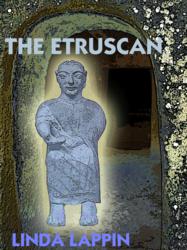 Gorgeously detailed, wickedly fun -- Prairie Schooner
Rome, Italy (PRWEB) April 10, 2013
Readers bound for Italy this summer or just heading for the nearest beach will want to lose themselves in the Tuscan hills in Linda Lappin's prize-winning novel, The Etruscan. Runner-up in Fiction for the New York Book Festival and short-listed for the Next Generation Indie Award in fiction, The Etruscan is now available for the first time in the USA in Kindle Edition from Amazon. In this entrancing novel, the tantalizing love story between American heroine Harriet Sacket and the enigmatic Count Federigo del Re, self-proclaimed Etruscan spirit, is played out in 1922 across the backdrop of eerie Etruscan tombs and boar-infested woods.
"Lappin elegantly brings the characters, Italian countryside and surroundings to life in vivid, engrossing prose." Kirkus Reviews
"The basic pleasure of this book lies in the suspension of disbelief, the heightened emotional urgency, the mystery, the lush and mystical scenery." – Prairie Schooner
"Gorgeously detailed, wickedly fun" – Prairie Schooner
"Lappin's artfully written novel inhabits a supernatural landscape, but alludes subtly to hints of Etruscan culture … Lappin's gift for atmosphere places her amongst the finest writers of gothic art, not genre." – The Southern Indiana Review
The Etruscan recounts the adventures of Harriet Sackett, trouser-wearing American photographer who travels to Italy to photograph Etruscan tombs for the Theosophical Society. Here she falls in love with the charismatic Federigo del Re, occultist and shape-shifter. Her increasing fascination with the man leaves her on the brink of collapse. The story is told from the viewpoint of Harriet's English cousins, Stephen and Sarah, whose own dark secrets are revealed as they read Harriet's diary trying to understand what has transpired. As the unraveling of Harriet's mind is revealed, so too are the secrets of Harriet's family– secrets which are no less disturbing than the diary. The mystery at the heart of Harriet's experience draws the reader on: who is Federigo del Re, the man she calls "her secret sun"? Noble lover, unscrupulous conman, Etruscan ghost, village shaman, or simply the product of Harriet's delusion? Lappin keeps the suspense pulled taut till the very last page.
What Readers Are Saying:
"Think Fifty Shades … but fifty times better written," – Margaret Bramley, Bookcrossing.com
"Pan dances more deeply in The Etruscan than he does in Lawrence's Etruscan Places," – Mel Ulm, The Reading Life.
"I was enthralled by Lappin's Italy… and by that god/demon/boar that flits through its landscape," – Nina Auerbach, critic, author of Our Vampires, Ourselves
"Reminiscent at times of John Fowles' The Magus," – A.E. Stallings
Watch the You Tube documentary A Tale of Tuscia: Linda Lappin's Novel, The Etruscan by S. Baldassarre
Author Bio: Linda Lappin, travel writer and award-winning novelist, is the author of The Etruscan, Katherine's Wish (Wordcraft of Oregon, 2008) a novel based on the life of New Zealand writer, Katherine Mansfield, and Signatures in Stone, a Bomarzo Mystery (Pleasure Boat Studio, 2013) Her awards and honors include the IPPy gold medal in Historical Fiction, second prize in fiction in the New York Book Festival, Honorable Mention in the Paris Book Festival, Honorable Mention in the Hoffer Awards. Her work has been shortlisted in the Indie Next Generation Awards, a finalist in the ForeWord Book of the Year, and nominated for a Pushcart prize. Upcoming projects include a memoir Postcards from a Tuscan Interior, sections of which won a Solas Award from Travelers Tales, and Genius Loci: A Writer's Guide to Capturing the Soul of Place, a craft of writing book. Her website is http://www.lindalappin.net
Title: The Etruscan
Author: Linda Lappin
Published on KDP,Amazon
225 pages
Asin B008KM69YQ