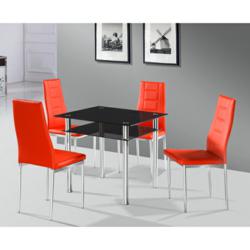 (PRWEB UK) 10 April 2013
FurnitureInFashion, a UK based furniture manufacturer and supplier, has launched a cheap Callisto black glass dining table and 2 Nova chairs for small spaces available at the most reasonable price. This dining table combines limitless creativity and flawless craftsmanship to extend a stunning and innovative dining table range of FurnitureInFashion.
In response to increasing interest in customizing dining tables, CEO and Managing Director of FurnitureInFashion collaborated with his design team to produce this magnificent black glass dining table. This dining table is a great solution for homeowners with limited space. This table with its sleek design can accommodate 2 to 4 people very conveniently and can add exotic style in a dining room.
This stunning black glass dining table has been manufactured from quality tempered glass. The table top is in black square glass finish. The dining table has chromed legs for providing sturdiness and support to the table. Callisto dining table comes with two comfortable and stylish dining chairs with a full back. These chairs are available in red, cream and black colours. This dining table has a glass under-shelf that doubles the space available. Callisto dining table with a width of 80 cm, depth of 80 cm and height of 75 cm is an ideal addition to a small dining room or kitchen. The chairs that come with this dining table have a width of 40 cm, depth of 45 cm and height of 100 cm. Callisto black glass dining table is available at affordable price.
The MD and CEO of FurnitureInFashion said, "FurnitureInFashion has been since long the best choice to add a touch of personality and style to a home. The modern and contemporary styles offered by FurnitureInFashion have begun to attract many aficionados thanks to the delicate elegance and unique refinement which can transform every house into an artistic space. From the elegant and sophisticated pieces that were prominent in the homes and palaces of the royals and aristocracy to the heavier and country styles, FurnitureInFashion renders the best comfort when it comes to dining tables. With the launch of Callisto glass black dining table, FurnitureInFashion has further added depth to the contemporary and elegant dining room collection."
FurnitureInFashion offers a wide range of cheap dining tables online. Customers can find several designs, colours and customized dining tables at the company's website and showroom. The company offers dining table sets in glass, wood and marble finishes. In addition, FurnitureInFashion offers separate chairs and tables as well. Homeowners can develop their customized dining table set by selecting chairs and tables separately. The company also offers dining room furniture including shelves, storage cabinets, drawers and other dining room essentials.
The CEO of FurnitureInFashion said, "The company offers free home delivery service to the residents of the UK. FurnitureInFashion also offers assembling service on delivery. Customers can visit the showroom of FurnitureInFashion located in Bolton."
The CEO further added, "FurnitureInFashion is committed not only to provide quality dining tables but also affordable dining table. Customers can find several cheap dining tables online in high quality offered by FurnitureInFashion. The company promises quality at any cost and is determined to maintain a consistent quality in all furniture ranges."
To have a look at cheap dining tables online and to place a pre-stock order, please visit the company website today at http://www.furnitureinfashion.net. The range of cheap dining tables online at the website is huge, delivery is fast, savings are massive and the quality is guaranteed.
About FurnitureInFashion
FurnitureInFashion is a UK based online retail business. It supplies furniture items from its German based warehouse and has a showroom in Bolton, UK. The company provides everything from umbrella stand, wall art and room dividers to bedroom, bar stools and computer tables. FurnitureInFashion offers excellent free delivery within UK and has a fantastic customer service as well. For further information and details about the sale, please visit http://www.furnitureinfashion.net