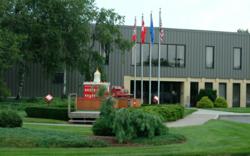 Enfield, CT (PRWEB) April 10, 2013
Hackman Capital Partners and Calare Properties are pleased to announce the recent expansion of LEGO Systems, Inc. at Enfield Business Park in Enfield, Connecticut, home to the toy manufacturer's North American headquarters. The company is taking an additional 80,198 square feet of office space in the former manufacturing building in order to augment research and development efforts and accommodate an ever-expanding employee base. With the expansion, LEGO Systems fills 299,325 square feet of the 587,736-square-foot facility, which is now fully occupied. The five-building, multi-tenant business park, located off I-91, also houses the company's corporate offices. The company's commitment to the location dates back more than 37 years.
LEGO Systems plans to transform the new office space into an ultra-modern environment with first-rate amenities, including a full service kitchen and innovative office space. The renovation will mirror the one finished in 2011, at Enfield Business Park, which combines creative, open floor plans with more traditional work spaces, all filled with an abundance of natural light.
"The 2011 office refurbishment at LEGO® headquarters ranks best in kind," said Michael Hackman, founder and CEO of Hackman Capital. "The space is modern, bright and beautiful—and the new offices will be just as stunning. Improvements, like these, continue to advance the world-class image of the park, a benefit for both existing and future tenants."
But for future tenants, available space is sparse at the park. Only Enfield's 99 Print Shop remains for lease with 37,580 square feet of flexible, first-rate space on two floors, ideal for engineering, R&D, office or call center operations.
Enfield Business Park is represented by listing broker Sean Duffy at Cushman & Wakefield. The park is owned by a joint venture among entities formed by Hackman Capital Partners, LLC, Calare Properties, Inc. and KBS Real Estate Investment Trust.
***
More about Hackman Capital
Founded in 1986 and headquartered in Los Angeles, Hackman Capital is a privately held, asset-based investment firm that focuses on the acquisition of industrial real estate and the purchase and sale of industrial equipment. The firm currently owns, through its affiliated entities, 100 facilities throughout the United States, totaling approximately 18 million square feet and more than 1,300 acres of developable land. Hackman Capital also has conducted hundreds of equipment acquisitions, dispositions, and liquidations on four continents. With more than 27 years of experience in acquisition, redevelopment, and asset management, Hackman Capital is known across marketplaces for its ability to successfully navigate complex transactions and financial restructurings involving real estate and equipment. The company is based in Los Angeles. For more information, visit http://www.hackmancapital.com.
More about Calare Properties
Calare Properties, Inc. is a real estate investment manager serving institutions and high net worth individuals. Since 2000, Calare has organized five private equity funds and several joint ventures to acquire and redevelop value-added real estate investments. Today, Calare has over $150 million of equity under management, which is invested in a diverse portfolio valued at over $600 million. Calare has a proven track record of acquiring, redeveloping, and disposing of underperforming commercial real estate assets. For more information, visit http://www.calare.com.