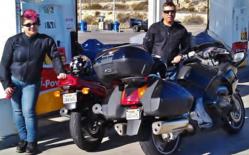 Husband & Wife, 2 Motorcycles, 6 Months, 48 States, and Only the Gear They Can Carry
(PRWEB) April 08, 2013
Tina and Steve are not only motorcycle enthusiasts, but marketing professionals. Most people ask them if they have won the lottery when Tina a.k.a Sash Mouth or Steve talks about the trip. Not many motorcycle enthusiasts get to go on a road-trip that covers 48 states.
Both Tina and Steve have their own blogs, which receive plenty of attention during the year. Since March 9th there is a new addition to their blogs: RoadPickle.com. RoadPickle.com will have all blog posts that Tina or Steve writes while on their trip. eBikerLeather is glad to sponsor the road-trip for Tina and Steve.
eBikerLeather was the first company that Tina and Steve decided to get in touch with as their sponsors. Merchandise delivered by eBikerLeather to Sash and Steve were a motorcycle sissy bar bag, leather vest, leather jacket and leather purse.
Preparations for the trip are intense and it is strongly recommend by eBikerLeather to checking out RoadPickle.com for any updates on the trip. With each day there will be new adventure.