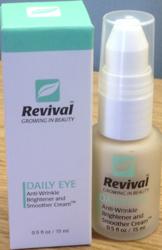 Kernersville, N.C. (PRWEB) April 10, 2013
Soy.com, the leading online retailer of soy supplements, has expanded its line of Revival Soy products to help its customers stay healthy and look and feel great. In addition to its regular line of delicious soy bars, chips, nuts and shakes, the online store now offers healthy protein water mixes and a complete line of soy-based skin care products designed for men and women who want healthier, firmer and younger-looking skin.
For years, Soy.com has been recognized as the premiere source for Revival's high-quality soy-based snack products that taste good and are good for you. Thanks to its patented process, every soy shake or bar made by Revival offers the same amount of healthy soy isoflavones as six cups of soymilk or a full pound of tofu – and Revival products taste great! Soy.com's new line of protein water flavor mixes are just as delicious, featuring the taste of fresh fruits like kiwi, peach and grape in addition to 15 grams of power-packed protein.
Because Revival understands that good health involves the whole person, its new line of skin care products have been designed with healthy skin in mind. The new line offers products designed to provide a complete skin care regimen, including cleanser and exfoliater, skin cream, eye cream and morning serum, and every product features Revival's unique anti-wrinkle formulation developed to offer the results men and women want.
Since its founding by Johns Hopkins-trained physician Aaron Tabor, M.D., Revival has sought to improve health through strong medical research coupled with natural eating habits. From its line of tasty food and beverage products to its new skin care line, every Revival product draws from the goodness of soy to achieve healthy, long-lasting results and benefit overall health.
Physicians Laboratories, the manufacturer of Revival products, is a leader in soy protein research. Revival products are used routinely in medical research funded by the National Institutes of Health (NIH) and performed at the country's leading medical school and healthcare facilities. To learn more about Revival's comprehensive line of healthy soy products, visit http://www.soy.com or call them toll-free at 1-800-REVIVAL.