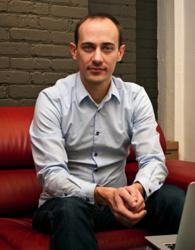 Shopify 2 is our most ambitious project to date. We have been working on this for years now, and we are very excited to finally release it to the world.
Ottawa, Canada (PRWEB) April 11, 2013
Shopify (http://www.shopify.com), the leading ecommerce platform used to create and power online stores, announced today the launch of Shopify 2, a complete redesign of its successful store-building system. The new platform, which has been in private beta since October 2012, is now available to the public and Shopify's over 50,000 online stores.
"Shopify 2 is our most ambitious project to date," said Tobias Lütke, Co-Founder and CEO of Shopify. "We have been working on Shopify 2 for years now, and we are very excited to finally release it to the world. We made substantial improvements across the entire platform. Shopify 2 is significantly more powerful, more intuitive, and will allow us to continue our rapid growth and expansion across all forms of commerce."
Based on years of UX research and feedback from store owners, Shopify has redesigned their dashboard to make creating an online store easier than ever. Shopify 2 adds over 60 new features and updates to the platform, including a live theme editor, and more intuitive paths to all admin functions. The new design reflects the way people naturally want to work, while being similar enough to Shopify's original platform that it is still familiar to longtime merchants.
Shopify 2 was built using a cutting-edge JavaScript MVC framework called batman.js, developed in-house by Shopify, then released open-source. The innovative new framework helps Shopify developers quickly prototype and create feature-rich and complex applications, and release them extremely quickly. According to Lütke, the company is "moving into a less traditional mentality of how we think about building webpages. For us it's all about making the best software we possibly can, even if that means blazing our own trail."
"With this new platform, Shopify is redefining how ecommerce works," said Lütke. "We're making it easier for everyday people to be successful at selling online, while also providing a fast, scalable solution for businesses who need a powerful enterprise level platform capable of handling high volumes. Our goal is to make commerce better for everyone – and Shopify 2 is a huge step toward achieving that goal."
Shopify 2 is the first major product release since the company's $22 million dollar funding. After securing the funding, Shopify began hiring new talent and aggressively expanding their resources. The company now employs 170 people at their Ottawa, Canada headquarters and plans to expand to 260 employees by the end of 2013. Shopify currently powers over 50,000 active online stores in over 100 countries.
Shopify 2 is available today starting at $14 per month. For more information and a free 14-day trial, visit Shopify at http://www.shopify.com.
About Shopify
Shopify is an ecommerce platform that allows anybody to easily create a beautiful online store. Shopify currently hosts over 50,000 active online retailers, including: Wikipedia, Amnesty International, Forbes, Encyclopaedia Britannica, Tesla Motors, SpaceX, Gatorade, Budweiser, The Chive, Evernote, and GitHub. Shopify was founded in 2006 and has received $22 million in Series A and B funding from Bessemer Venture Partners, FirstMark Capital, Felicis Ventures, and Georgian Partners.
Shopify contact:
Mark Hayes, Public Relations
1-888-746-7439 x 755 | mark.hayes(at)shopify(dot)com