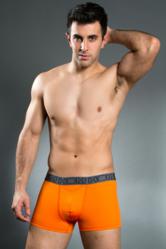 there must be smart pants underneath. Bad undies should be shown a red card…
(PRWEB UK) 8 April 2013
Any sportsman who wants to follow Mirko Vucinic's short-dropping celebration when his team won in Turin at the weekend must remember what he's wearing underneath. Deadgoodundies.com - online specialists with one of the world's largest selections of men's underwear available from a single outlet - insists there must be smart pants underneath. Bad undies should be shown a red card…
Website founder Adam Davies says the footballer's tightie whities looked a good shape and still nicely white. "We're not sure why he celebrates this way but it is part of a trend. Vucinic did the same at least once before - and that time he wore his shorts on his head to celebrate!"
Vucinic was given a yellow card for exposing his undies, which is apparently on a par with removing your shirt in soccer. Other footballers and sportsmen have dropped their shorts to mark a special goal or a win, and Adam has a timely warning…
"If the cameras are around, make sure what's underneath your sports strip stands up to scrutiny - and keeps everything where it should be during an energetic lap of honour. Whether your underpants of choice are boxers, shorts, hipsters, briefs or even a sporty jock strap, they must be clean, the right size and a good colour. Definitely not saggy, baggy or grubby!"
Deadgoodundies.com sells a number of sports underwear styles and fashionable sporty looks for active men. There are chic sporting underpants from Jockey and Sloggi, more colourful options from HOM and Mundo Unico, a huge range of fashion and sports jockstraps from Joe Snyder, Gregg Homme and Manstore, and ergonomic jocks by Obviously for Men.
Adam notes one sales trend that fits with pants-exposing celebrations on the sports field: "Sporty ranges are often much brighter than everyday underpants, in gorgeous plain colours, mixing blocks of colour, adding stripes, contoured seams and striped or smartly branded waistbands. Men who tend to be conservative in their underwear choices will often indulge in something much more fun for physical activity…"
Company Information
Deadgoodundies is an online only retailer stocking the best in designer men's underwear and swimwear from all over the world including: (in alphabetical order) Big Boys, Body Art, Bruno Banani, Bum-Chums, Clever Moda, Doreanse, Ergowear, Gigo, Gregg Homme, HOM, James Tudor, Jockey, Joe Snyder, MaleBasics, MANstore, Mey Bodywear, Mundo Unico, Nils Bohner, Obviously For Men, Olaf Benz, Pikante, PUMA, Skiny, Sloggi, Solar TanThru and Zoggs. DGU stocks everything from thongs and strings to briefs, hipsters, shorts and boxers as well as selected loungewear, socks, T-shirts and more from best selling brands.
DGU are incredibly media friendly and always have high res images on hand for fashion pages and samples for photo shoots as well as expert comment and market insight from partners Adam and Jane.
For more information contact DGU PR Jane on 01743 271615 (international +44 1743 271615) or email pr(at)deadgoodundies(dot)com