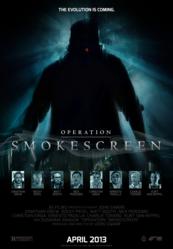 ...the independent film starring the cigar industry's biggest names will be offered for sneak preview at operationsmokescreen.com, April 15th.
North Valley, CA (PRWEB) April 09, 2013
Bang! Pictures has announced the ASFilms-distributed "Operation Smokescreen" – the independent film that has brought together eight of the cigar industry's biggest names – will be available in limited sneak preview April 15th, 2013 on the movie's official site. "Operation Smokescreen" will see its official release on April 24th 2013, coinciding with IFFBoston. Subsequent screenings are planned during the Midwest Independent Film Festival on May 6th, and this year's FirstGlance in Philadelphia.
"Operation Smokescreen" is the story of eight of the world's leading cigar manufacturers, and their race against time – and each other – to save their fields from a deadly necrovirus that has spread through their Central American tobacco farms at a devastatingly fast pace. The virus is man-made – and the ecoterrorist who controls it, also holds the antidote. Whole cities are rioting and martial law has been declared as the entire industry teeters on the edge of collapse. The growers must now decide whether they can wrest the formula from the hands of this rogue operative, or cut a deal to save themselves from the destruction. Directed by John Swarr, "Operation Smokescreen" stars Jonathan Drew, Rocky Patel, and Nick Perdomo. Also appearing in the film are Matt Booth, Christian Eiroa, Ernesto Padilla, Charlie Toraño, and Kurt Van Keppel.
Even though the eight stars are competitors in real life, it's the common bond of the cigar industry that allowed them to come together on a project like "Operation Smokescreen."
John Swarr: "I think the most incredible part – besides the locations [filmed in Europe, Miami and South America] we worked in – is how well these guys all came together on this project. It really informed me on how much the culture behind their business is about enjoying each other's company."
Nick Perdomo: "This was just great. We shot some scenes near my home in Miami, so it will be great to show off the city. I'm really happy people are going to get to see this. I'm just glad I didn't have to be a bad guy…well, at least not a really bad guy."
Christian Eiroa: "I just saw a final cut a few weeks ago. I think it came out really nice, it was cool to be serious with these guys one minute, and rip on each other the next. Thank God this is only a movie – we'd be screwed if this really happened!"
Rocky Patel: "When John told me about the story and me being myself in it, I was like, "Are you kidding?" It was really cool to get to do this. Everybody was just outstanding."
Credits
Bang! Pictures and ASFilms present a film directed by John Swarr: Operation Smokescreen
Cast: Matt Booth, Jonathan Drew, Christian Eiroa, Rocky Patel, Ernesto Padilla, Nick Perdomo, Charlie Toraño, Kurt Van Keppel, and introducing Susana Aragon.
For additional information, please visit the "Operation Smokescreen" website.