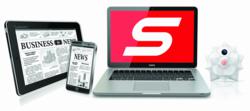 We are confident that the new strategy will accelerate SECUDE's continued growth and success.
Atlanta, GA (PRWEB) April 10, 2013
SECUDE, an innovative global provider of data security solutions, announced today its new strategy focused on delivering cutting-edge data protection products to key international markets. SECUDE introduces the strategy of "embracing and extending"; operating out of offices in Europe, North America and Asia, the strategy will be aimed at identifying and closing the security gaps that exist in today's corporate IT environments.
SECUDE's new strategy is centered on creating added value to the IT security space. The main focus is on helping businesses identify existing security breaches and providing security solutions to protect sensitive corporate information, regardless of where it is stored. From the perimeter to the cloud, the new product portfolio addresses modern security issues from every angle.
SECUDE's product portfolio has now the power to "extend" existing IT infrastructures, such as SAP's ERP environment, Microsoft Windows infrastructures, and Mobile Device Management solutions. New flexible products adapt to customer requirements, providing seamless integration and management across the entire organization.
Due to advanced data thefts and rapidly expanding regulatory mandates, data security has become a focal point of a global concern. To address these global security patterns, SECUDE has decided to concentrate its strategic efforts on three key international markets – Europe, North America and Asia – for their unprecedented growth opportunities in the IT security sector.
"We are confident that the new strategy will accelerate SECUDE's continued growth and success," said Dr. Heiner Kromer, SECUDE's CEO. Dr. Kromer also believes this new approach enables SECUDE to add more value to the global IT space by creating safe corporate environments, benefiting businesses and societies as a whole.
About SECUDE
SECUDE is an innovative global provider of IT data protection solutions. The company's state-of-the-art security solutions represent a holistic approach to security. SECUDE's strategy is aimed at identifying and closing the security gaps that exist in today's corporate IT environments. SECUDE's user-friendly solutions protect the integrity of data and prevent intellectual property theft and data breaches, all while enforcing regulatory compliance. Since 2011, SECUDE has been part of the SAP® PartnerEdge™ Value Added Reseller program and an SAP distribution partner in Germany, Switzerland and the USA. As an SAP Value Added Reseller (VAR), SECUDE sells licenses, consulting and implementation services for the SAP NetWeaver® Single Sign-On solutions in addition to its own product portfolio. SECUDE is trusted by a large number of Fortune 500 companies, including many DAX companies. With offices in Europe, North America and Asia, SECUDE embraces global IT security. For more information, please visit http://www.secude.com