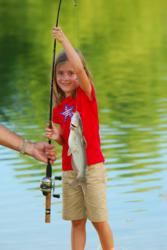 Athens is the perfect destination for families looking to explore the outdoors and experience nature at its best, said Sherri Skeeters, tourism coordinator for the City of Athens Department of Tourism.
(PRWEB) April 10, 2013
For years, the city of Athens, Texas has attracted fishing enthusiasts to its many freshwater fishing sites. Now Athens is being recognized by Texas Parks and Wildlife for its Texas Freshwater Fisheries Center. The magazine calls the center the best place in Texas to "play catch".
The Texas Freshwater Fisheries Center maintains a 1.2 acre stocked fishing pond where children are taught how to bait a hook and cast a line. As Texas Parks and Wildlife says, "Many young anglers catch their first fish at the Texas Freshwater Fisheries Center in Athens." Bait and tackle are furnished for visitors and no fishing license is required.
Children and adults who are visiting the Texas Freshwater Fisheries Center can also walk a wetland trail, watch a daily dive show, take a tram tour, and explore 300,000 gallons of aquariums teeming with native Texas fish.
Located 75 miles southeast of Dallas, the city of Athens provides an array of activities for any family vacation. Athens has scuba and zip-line opportunities, as well as one-hundred wooded acres belonging to the East Texas Arboretum and Botanical Society.
Bordering the Texas Lakes Trail and Texas Forest Trail regions, the natural beauty of the Athens countryside is a great escape for those looking to get away this time of year. The City of Athens Department of Tourism is also offering a wide variety of local coupons and discounts for those who visit this month. Coupons range from local restaurants to popular hotels, making this spring the perfect time to come and enjoy the East Texas countryside at an affordable rate.
About The City of Athens, TX:
The City of Athens, Texas is a scenic, idyllic town offering relaxation and a break from the hustle-and-bustle of everyday life. With its nature trails, fall foliage, fishing sites, scuba diving facilities, rodeos, and vineyard, it appeals to adventure enthusiasts and casual travelers alike. Athens is also the nationally acclaimed "home of the original hamburger." For more information about Athens, including hotel accommodations visit http://www.athenstx.org.