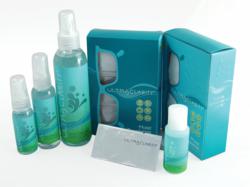 Ultra Clarity is the only lens care made by a company that also makes lens coatings, so we hold ourselves to a higher standard.
Valley View, OH (PRWEB) April 09, 2013
"Nanofilm's new Ultra Clarity® packaging is a beautiful weapon to fight the myth that cleaning eyeglass lenses with soap and water is ok," says Jodi Groh, Director of Marketing. "The look matches the facts: Ultra Clarity lens care exceeds every standard for cleaning effectiveness and safety on all lenses, AR and other coatings, and is a far better choice than soap and water. Just as important, the good-looking design gets lens care out of a drawer and onto the countertop with the other grooming essentials. It's a daily visual reminder that there's a very best way to perfect your view while protecting your lenses."
The new look in fresh blues and greens has the high-end cosmetic look that reflects the fashion trends in high-end frames and optical retailers. "Nanofilm has a reputation for style, and this new collection will add to it," says Groh. The packaging also features icons for electronics and other optical surfaces to make it easier for consumers to find the information they need. The collection includes:

1-, 2- and 6-ounce sprays, customizable with practice information
Lint-free moist towelettes in a 30-count box
Lens care kits
What's the problem with soap? And why Ultra Clarity?
The new packaging is the stylish kick-off for Nanofilm's campaign to educate consumers and eyecare professionals about the importance of proper lens care. "Twenty years ago, dishwashing soap or bath soap was probably safe for cleaning glasses. Now dozens of ingredients may be in these formulas, including alkalis, acids, or abrasives," notes Groh. "It's a known fact that a significant number of warranty remakes are due to consumer mishandling that damages lenses or coatings. Why would eyecare professionals set up patients for failure?"
Today's lenses have high-tech surfaces and coatings, like smartphone and iPad screens do, and they suffer the same dirt and hazards -- greasy fingerprints, dust, cosmetics, sweat. "No one would use dish soap on an iPad," says Groh, "so why would they use it on eyeglasses?"
Ultra Clarity lens care is the safer, smarter choice than household soaps and detergents. Household cleaners often include acids and alkalis, harsh solvents and abrasives that can damage lenses and coatings. Ultra Clarity, formulated specifically for eyeglasses, is pH neutral, utilizes only small amounts of benign organic solvents, and has no silicone or abrasives.
Ultra Clarity testing goes above and beyond industry standards
COLTS Laboratories, an independent testing service, certifies lens cleaners' safety and cleaning ability. Ultra Clarity exceeds their standards and does additional in-house testing. "Ultra Clarity is the only lens care made by a company that also makes lens coatings," says Groh, "so we hold ourselves to a higher standard." Nanofilm's Technology Department performs these exclusive tests:
Check for safety on lens coatings, including Anti-Reflective coatings. In standard industry testing, lenses are soaked in a lens cleaner for 48 hours to check for damage to the lens surface/coatings. Nanofilm soaks lenses for 168 hours – a full week. "It's a more accurate and a more stringent way to assure safety over the life of a pair of eyeglasses," notes Groh.
The first real world dirt test. Off-the-shelf lubricating oil is the only soil used in industry cleaning tests. Nanofilm developed a real-world mix of soils that mimic human body oils and fingerprints with salts, cosmetics, and even dust particles. "Our simulated dirt is more realistic and also more difficult to clean away than plain lubricating oil," says Groh, "and Ultra Clarity takes care of it completely."
Additional cleaning tests. The COLTS Haze Gain Test, an industry standard, determines the effectiveness of a cleaner by comparing the amount of haze on a clean lens with a lens that has been soiled with lubricating oil and then cleaned with lens cleaner. Nanofilm has developed a second test comparing haze values on a clean lens, a soiled lens, and then the soiled lens after cleaning with a lens care solution. This test measures the efficiency of cleaning as well as the final cleanliness of the lens. In both tests, the lower the number, the better. On the standard test, Ultra Clarity scores below 0.5% haze, haze which is not visible to the naked eye. The Nanofilm test reveals no visible haze left on the lens and a cleaning efficiency of 90 to 95% with different soils.
The Nanofilm Ultra Clarity line also includes other packaging options designed to promote proper care and enhance the in-store experience.

The Little Eyes Collection uses a bright, yellow school bus and crayon-inspired graphics to engage and educate children.
Seasonal designer collections offer consumers fresh looks.
Inquiries can be directed to Nanofilm's Customer Service Team at 800-883-6266 or info(at)nanofilmtechnology(dot)com.
About Nanofilm: Nanofilm (http://www.nanofilmproducts.com), founded in 1985, is a global optical leader in lens care and coatings. Millions of people around the world use Nanofilm products, including Ultra Clarity®, Clarity Clean It™, Clarity Defog It™, Clarity EcoClens™ and other lens care products, as well as nanotechnology-enabled coatings.