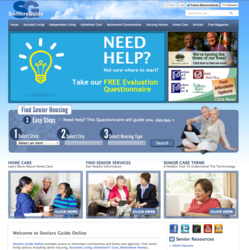 Expect to see new articles posted throughout every week
Richmond, VA (PRWEB) April 10, 2013
http://www.SeniorsGuideOnline.com has updated its Article library with blog posts and articles about insurance, senior health, pet therapy and more.
To assist older adults and their families in the search for senior housing, retirement communities, home health care and options for paying for retirement, SeniorsGuideOnline.com will be updating their article library regularly.
"Our visitors to SeniorsGuideOnline.com, and followers on Twitter and Facebook are seeking the latest information on aging regularly, and we hope to provide valuable resources to our audience," says Katharine Ross, Vice President of Sales and Marketing for Seniors Guide.
Articles in the Insurance category will cover long term care insurance, final expense insurance, and different articles and blogs relating to medicare. Visitors following the Senior Health category will find tips on aging in place, maintaining independence, and other various health tips. Along with articles about insurance information for older adults and health tips, there are also articles on planning for your retirement.
"Expect to see new articles posted throughout every week", says Ross.
In addition to being hosted on SeniorsGuideOnline.com, posts from the article library can be shared on other senior industry blogs and social media sites.
"An adult child who lives in California, and is searching care information for mom and dad in Dayton, Ohio, can share articles and retirement communities on their Facebook, or a sibling's Facebook timeline to begin the conversation", says Ross.
Seniors Guide, a Richmond, Va. -based company publishes Seniors Guide magazines throughout Cincinnati, Ohio; Dayton, Ohio; Indianapolis, Indiana; Raleigh-Durham, North Carolina; Richmond, Virginia; and Roanoke-Lynchburg, Virginia and features a correlating website of SeniorsGuideOnline.com. Seniors Guide's mission is to help seniors and their families find the information they need on options available in senior housing, senior care, assisted living, independent senior living, retirement communities and other retirement living needs. Seniors Guide also has resources at http://www.HomeCareChoice.com for Cincinnati, Ohio; Dayton, Ohio; Raleigh-Durham, North Carolina; and Richmond, VA. Ross Publishing, Seniors Guide's parent company, began in 1991 and has been publishing helpful, free publications and websites ever since.