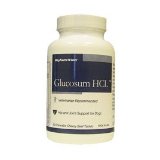 Port Saint Lucie, FL (PRWEB) April 09, 2013
BigNutrition announced today that it will be adding another ingredient to one of its popular dog products, Glucosum HCL. Green Lipped Mussle will be another addition to the existing list of healthy ingredients that make up the highly effective joint treatment for dogs. Veterinarians and dog owners are to greatly benefit from the said addition as this will further enhance their dog's total body protection. With the addition of Green Lipped Mussle to Glucosum HCL, the product can better strengthen the joints and mobility of dogs suffering from arthritis.
What is a Green Lipped Mussle
Green lipped Mussle is Perna Canaliculus. It is a bivalve mollusk from the Mytilidae family and there is abundance of supply of it in New Zealand. The green lipped mussle feeds on phytoplankton. Green lipped mussles used to be water pests in Australia but are now a popular product in the New Zealand. Green lipped musseles are the largest mussel species.
Prevention Using Green Lipped Mussle. Green lipped mussle is rich in magnesium, copper, zinc and vitamin C.
About Glucosum HCL
Glucosum HCL has been popular for treating dogs with joint problems, it is manufactured by BigNutrition. Glucosum HCL is used to improve the mobility and energy of dogs. Testimonials from dog owners show that with the help of Glucosum HCL, they are now seeing the big difference even though their dog is already old. It is available on Amazon or direct at BigNutrition.com.